UTV'ing in the Rocks – Moab Style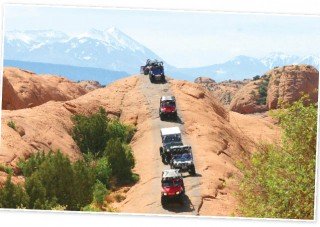 Moab! What can you say about Moab?  Here are a few answers I hear when I mention that we are going to the off-road Mecca of the world.  One, "I've always wanted to go." Two, "I love Moab." Three, "Where is Moab?"  If your answer was three, then you should just stay under your rock, rather than crawl over it.  Okay, that was maybe a little harsh, but if you have not heard that Moab is one of the best rock crawling destinations, then you need to read on and plan a once-in-a-lifetime trip to this awe-inspiring destination. All too often we get caught up in riding the same spots that lead up to just an okay ride.  Not to sound too cliché, I will admit that the worst day of riding is still better than not riding at all.  But with so many great places to ride in the country, as well as rising fuel costs, planning great trips in your UTV should be high on the priority list.  A trip like this with your family or friends will create memories that will last a lifetime.  For us, finding new destinations or new trails adds to the adventure and keeps the interest level high.  After all, you have spent a pretty penny to buy your 4-wheel drive, so get out and use it. Since this is only our second time going to Moab, I was already doubting whether or not this trip could beat out last year's first impression of this area.  The great thing about Moab is it always does.  How, you ask?  Simple.  Depending on the trail or your ever-growing driving ability, it always delivers a challenge.  Challenges that may have been too aggressive the trip before are within reach of you now.  As your abilities increase. so does your desire for more challenging obstacles for you and your machine come into play.  That's right, you have become an adrenaline junky.  If challenging yourself is not your cup of tea, you will still enjoy the miles of scenic trails available that are just a stroll in the "off-road" park.
What brought us here again was the 2
nd 
Annual UTV Rally.  Chris Rademacher and his UTV Rally crew put a lot of thought and effort in creating the Moab experience and are continually looking for ways to make this bigger and more memorable each year.  With only two years under its belt, the Moab UTV Rally is the largest multi-day UTV dedicated event in the country. Many people drive or fly in as far as Florida to get the chance to drive the challenging and scenic country that is Moab.  This year, the UTV Rally stepped up this event with access to some of the best and most well known trails in Moab.  Cliffhanger, Moab Rim, Hell's Revenge, Fins & Things, Steel Bender and Kane's Creek were just a few of the trail systems available for attendees.  Getting to the trails, groups were escorted by the local police department at three different meeting points.  The event was also moved from Arches to the Old Spanish Trail Arena where the annual Easter Jeep Safari event is also held.  As the event increased in size, it was important for this event to take advantage of more available space that was needed.  For those that did not want to tag along on the guided trails, they had the option to trailer out to a number of different trailheads. Manufacturer sponsors such as Arctic Cat, Kawasaki and Yamaha were on-site, as well as off-site, offering demo rides throughout the event. This was everyone's opportunity to test-drive these units in an off-road environment rather than learning about it in a dealer showroom. It's great that manufacturers are getting involved with UTV events at the grass roots, and we hope they continue their involvement.  This is Yamaha's second time sponsoring this event, and just like last year, they offered free support to Rhino owners.  This keeps the mechanics busy throughout the event replacing simple items such as fuel filters to axles.  They commented that if one of their units broke out on the trail, they did not want it to ruin anyone's trip, so they fixed it for free!  This seemed to go a long way with their current owners, as well as potential customers.  Other manufacturers such as Ranch Rider, Ruesch Motor Company and Tom Car had on display their units for everyone to check out.  They also were out on the trails showing participants the ability of their machines, as well as participating in some of the events on Friday.
Rancho Suspension, who is known for their truck suspensions, introduced their new UTV line of long travel kits and shocks for the Yamaha Rhino, as well as the Polaris RZR. They also sponsored a great dinner on Friday night with an excellent slide show of their product out on the trail.  Other great vendors such as Bullet Proof Performance were on hand selling tons of accessories for UTVs.  They even installed a long travel kit on an RZR while at the event.  MCX-USA showed up with their turbo charged UTVs, and they were available for testing.  They brought out the same Turbo RZR we reported on in our last issue from Sweden.  This was the first time that we were able to drive it in the dirt as opposed to the snow, and Wow! This thing is more exciting than a rattlesnake roundup.  We took it for a spin around a horse track, literally drifting sideways around each corner.  Rhino Mayhem was showing off their new UTV-related video, as well as taking footage for their next UTV Mayhem DVD.  Stayed tuned for this video, because they have some of the best UTV rock crawling footage we have seen. Starting early Wednesday morning, Chris held a drivers meeting before hitting the trails, explaining how the police escorts to the trails would work and some tips on safety. Shortly after, sounds of machines starting up caught your attention as participants started forming a line 50-60 deep in anticipation for their first ride of the event.  Many of the UTV owners have never had the chance to drive on paved roads, so this was a treat, and the police escort made you feel like a VIP. Nearing our trailhead at the start of Hell's Revenge, we passed the famous Lion's Back rock formation, which is now privately owned. Immediately starting the Hell's Revenge trail, you climb up in elevation on one of the many fin-type formations in this area.  As you get to the top, you can look back to see the snow covered La Sal Mountains in the distance. Hell's Revenge is mostly slick rock trail riding with a few rocky obstacles and a couple of off camber areas.  While this is rated difficult in 4-drive guides, it is more like moderate in a UTV.  Of course, there are certain passes that you can take that will definitely give this trail a difficult rating.  One of those is Hell's Gate, which is a V-shaped shut between two rocks and is steep.  In our group, six thrill seekers wanting to get the most out of their Moab experience went up the steep, off camber crawl.  While we wanted photos of people going up without a tether, everyone felt a little more secure with one on.  We would have to agree; one small miscalculation and you would flip over backwards with nothing to stop you on the way down.  With everyone up safely, we continued on taking in the incredible scenery as far as the eye could see.  The scale of this terrain definitely makes you feel miniscule, and the beauty calms your soul. As calming as this ancient land may be, there are also parts that get your blood pumping and let you know you are alive.  Behold the Escalator! This is another great side obstacle on this trail similar to Hell's Gate with an added bonus of some large vertical steps.  Once again, the trail guides with safety in mind strapped some tethers to the UTVs to keep the front ends down. Hell's Revenge is a great trail with a little of everything mixed in for the novice to the extreme. On Thursday, we wanted to stay with some of the more difficult trails so we chose to go out on the Moab Rim Trail.  This trail starts at the base of the Colorado River, and immediately you climb up 500 ft in the first mile. This section took our two groups of about 25 an easy 2 hours to reach the top.  In the first large step, a few units in the group broke some axles, and as we moved up to the next set of obstacles, we had a few minor tipovers. Once we traversed up the rocky Cliffside, our next 500-foot ascent would be a little easier and faster as we wove our way through sand washes, valleys and slick rock formations.  We finally ended up at about 5000 ft in elevation, overlooking the town of Moab below us, looking at the vast terrain that went on for miles.  Getting down proved to be much easier than getting up, and at the end of the day we added another great trail to our repertoire.
Friday was a day to take a break from the trails and enjoy a few events at the main arena.  Pole bending, blind barrel racing, tug-of-war, balance beam and an unsanctioned drag race under the lights were just a few of the activities.  This was a fun day of competitive activities and a great hit with everyone.  Check out the photos and see for yourself. Saturday came way too early after already three days of action packed trail rides and events, but we wanted to continue to challenge ourselves, so we headed out to another difficult trail "Cliffhanger."  From the start, it is not apparent how it got its name until about three-quarters of the way up.  Coming down around one of the bends, you finally get it.  Cliffhanger!  This section, you are literally on a cliff.  With walls on one side and a 1000-foot drop off on the other, all you have to do is navigate through a few tough rocky sections while trying not to tip over. Piece of cake!  Yeah, then you have to go through the same section on the way back, which is the difficult part.  All in all, this is a nice trail.  Not our favorite, only because it lacked the amount of scenery the others had.  This trail has a lot of rocky stair steps and a monochromatic backdrop up until you get to the top where more slick rocks appear. If you are looking for the adventure of a lifetime with the best scenery and trails, as well as other folks that share your same passion, then you should definitely consider going to Moab.  Whether it is at the next UTV Rally or just a vacation with your family and friends, this is a destination you should not pass up.