GBC Motorsports – Dirt Commander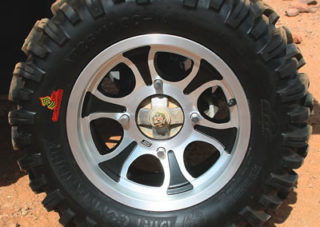 THE SKINNY
GBC Motorsports Performance ATV tires are built to get you over tough terrain and to your destination. Dirt Commander, GBC's new all terrain tire, is a super tough 8-ply rated bias tire that gives you excellent puncture resistance. Its siped tread design also gives additional biting edges for better traction in all terrains.
THE BOTTOM LINE
GBC Motorsports introduced four new tires in their ever popular line of ATV/UTV tires last year at the 2007 SEMA Show in Las Vegas.  New to their line-up are the Afterburn, Spartacus, Grim Reaper and Dirt Commander.  We received a set of their 14" Dirt Commanders and mounted them up on 14" STI wheels that we tested on a 2008 Polaris RZR.  Right off the bat, this combination of tires and wheels drastically improved the look of our test vehicle.  The Dirt Commanders are a non-directional tire pattern, and as always GBC has a great color logo on the sidewall as well as a logo element often between the treads.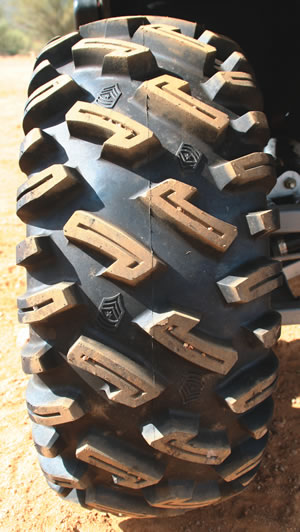 Getting Dirty
For our test, we went to one of our favorite test areas for tires.  It has almost every trail condition you might encounter, including mud, slick rock, jagged rocks, sand and hard pack trails.  For our first test, we set out for the slick rock area.  In wet and dry conditions, the Dirt Commanders were not as sticky as we would have liked them as compared to their Dirt Tamer tire we have tested in the past.  We chalked this up to the fact that they are an 8-ply bias tire, which attributes to minimum tire flex as well as their 14x26 tire size.  A 12x26 tire might allow you to air down a little more (more sidewall to flex) and would probably fair better under these conditions.  Besides, they are named "Dirt Commanders" and not "Rock Commanders."  In our next test, the Dirt Commanders excelled.  While the name implies that they are built for the dirt, they take to the mud like a hog at recess.  We tested the Dirt Commanders in a long stretch of mud, and they came out clawing on the other end.  What impressed us most was their self-cleaning ability through the mud and out of it.  A few yards down the trail, sporting clean tires, a passerby would have never known you just went through the nastiest mud on the trail.
After these first couple of tests, we ventured out on a 5-hour trail ride to get a better feel for their all terrain attributes and more along the lines of their intended use.  The trail was about 50% hard pack and the other 50% on various rocks.  On the rockier side of things, which consisted of mainly large, sharp boulders to softball-sized rocks, the Dirt Commanders showed no mercy and came out the trail's end without a cut, tear or puncture.  This is always a nice result, as the tires harder compound and 8-ply construction contribute to their success.  On the hard pack trail, the Dirt Commanders really held their own. On our RZR test vehicle, we typically get some body roll from our lumber wagon, but with the 14" tire and wheel combination we felt more planted and were able to get the rear end to kick out in a nice controllable fashion.  At day's end, we couldn't be happier with the quality of the GBC Dirt Commanders.  While they may not have performed to our standards on the slick rock test portion, we felt that this was a small majority of your trail riding experience.  In every other test they performed flawlessly and deserve a 4-1/2 out 5 star rating. With little signs of wear after our torture test, the Dirt Commanders will prove to be a durable tire that will outlast your typical expectations of a normal tire.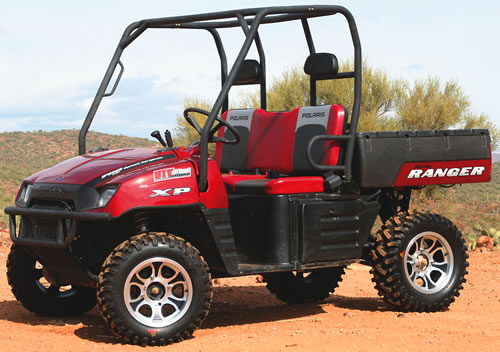 Oh, by the way, did you know that the Dirt Commanders are rated up to 1045-lb load capacity per tire?  This is the largest rated load capacity of any tire out on the market and why we mounted them on a Polaris RZR with a 900-lb bed capacity.  While we did not test these tires with any weight, we did test them on one of the heaviest vehicles.  With this much load capacity, hunters, farmers and the hard-core campers will be at ease on a tire that can handle the load and any terrain in its way.
Tire Test Size Front: 26X9.00-14 - Weight 23.8 Rear: 26X11.00-14 - Weight 27.2
Tire size range from: 25x8x12 up to 27x11x14