Sand STORM – Hitting the Dunes at Oregon Dune Fest
Having only been to the dunes in Southern California, I was really looking forward to visiting Oregon to see what it would be like to ride my Polaris RZR in the dunes and be on the coast at the same time. I figured it had to be beautiful, but I had no idea just how pretty it was going to be. After arriving at the airport, I got picked up by my good friend Chris Drennan. From there, we headed up to the Salmon Harbor RV Park, which is located right on the East side of the famous Route 101 across from all the festivities. After getting the motor home all situated, we headed over to take a look at everything that was already going on. It was Tuesday, and there were already hoards of people out on the dunes getting set up. In fact, I've never seen so many crazy people taking their motor homes, trucks and 5th wheels, you name it out in the soft sand. And, needless to say, the Dune Fest coordinators had plenty of earth movers to pull these guys out. It was non-stop and pretty amusing at where folks thought they could drive their rigs.
Chris and I were excited to hit the dunes the following day, so we made some last minute adjustments to his RZR, attached our in-car cameras from Edge Cameras, and rested up for a good day of riding and festivities on Wednesday. To start off the day, Polaris sponsored a Pancake Breakfast for everyone to kick the day off on the right note. From there, at least for us UTVers, it was open duning until 3pm when the UTV and SxS tractor pulls kicked off. Talk about a hoot! You can't imagine how watching guys bury themselves deep in the sand while moving little to nowhere can be so amusing, but it is.
The dunes in Winchester Bay are definitely a lot prettier than Glamis, CA. At Glamis, you have endless dunes with huge bowls to ride through for hours on end. At Winchester Bay, OR, the dunes are backed up against the Pacific Ocean, which is definitely a sight to see. Not only that, intermingled in the sand, there are trees, shrubs, and low lying grass to accent the picturesque views. The amazing thing is if you wake early, you can get fabulous pictures of the sun shooting over the sand and onto the ocean, making it glisten in the morning sun. And, if you wait till later in the day, you can get the reverse of those shots facing the dunes with all sorts of different colors bouncing off the sand or some stellar sunset pictures. Dunefest has definitely picked a nice area to ride your UTVs, quads, sandrails, dirtbikes, and vehicles. In fact, one of the neatest things I enjoyed doing is riding through the network of trails in the low lying brush. I've never experienced this at the dunes, so it was a lot of fun blasting through the whoops, banked turns, and some rather fun jumps in the RZR. It would be sweet if Dunefest organized a race through those sections next year.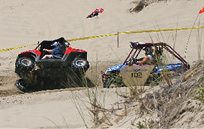 Thursday got off to another good start with a Pancake Breakfast sponsored by Suzuki. From there, we had another busy day of strolling through the vendor area and then off to the SxS/UTV Rock N Roll X Games. Contrary to the way it sounded, this was actually a shorter version of the motocross style racing they'd be doing on Friday. Having not spent a lot of time watching or knowing much about the old Honda Pilots, it was neat to see a couple of them racing out there. In fact, the UTVs had a hard time keeping up with the little Pilots. After a few short laps, the terrain establishes rather deep ruts, so folks really had to be careful not to roll over in the turns. After a few elimination runs, it was obvious that the Polaris RZR was racking up win after win, eventually winning overall on the short track.
Thursday night, Polaris sponsored the SxS/UTV Drive-In Movie where they played "The World's Fastest Indian" on a huge outdoor screen. Friday morning came early once again, but after looking outside, it was raining rather hard. Even though the weather was a little unforgiving, the XXX Rate Racing Fashion Show, the Modquad Treasure Hunt, Seven Feathers Casino Poker Run, and the UTV Drag Races went off without a hitch, along with a whole host of other activities. Just after the Show & Shine competition, the RV Corral put on a Charity Auction to support many local charities to show the communities involved how much the DuneFest coordinators appreciated everyone's help and cooperation to put on an event of this magnitude. And, to finish off the evening, there was live music and a freestyle show to keep everyone's interest late into the night.
On Saturday, there were even more events and shows to watch or participate in, whether you ride an ATV, dirtbike, truck/buggy, rail, or UTV. And, that's one thing to note about DuneFest that I've never seen done so well at any other event I've attended. It's hard enough to host an event that covers one vehicle category, but DuneFest successfully hosted more events for every type of vehicle imaginable than I've ever seen at one show. They had many different local organizations there to help coordinate them, otherwise it could have never been pulled off. Folks from Promoto Promotions, the Oregon Off-Road Racing Association, Trackmasters, and of course all the employees and volunteers that hosted DuneFest. It was quite impressive, to say the least! If all the great riding, scenery, and events weren't enough to keep you occupied, Vendor Row had a good selection of aftermarket RZR parts with shops and food vendors to keep you continually emptying your pockets for the latest and greatest new products for your ride.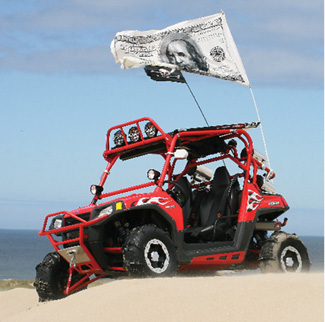 The other nice thing about attending big events like this is that most of the OEM manufacturers are in attendance to show you all the latest products. Not only that, they let you test drive them for free. You sure can't beat that! And, at Dunefest, the US Army sponsored a special demo area for all the manufacturers to highlight their different machines. Polaris RZR, Arctic Cat, BRP/Can-Am, Kawasaki, Redline, Suzuki, and Yamaha were all providing free demo rides. It's great to see the OEMs out in full force supporting the industry and their customers.
Overall, I'd highly recommend DuneFest and Winchester Bay as a wonderful place to visit if you've never been. Even if you live in the area, DuneFest is well organized, obviously in a beautiful location, and you get to mingle and spend time with all your friends and new folks you're bound to meet. Look for us again next year at DuneFest in our shiny new RZR 800!