RZR Spare Tire Rack by Assault Industries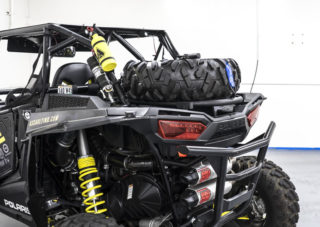 As the owner of a Polaris RZR UTV, you aren't planning on just rolling along a paved trail at 5 MPH until you reach your destination. There would be no point in owning a powerful RZR for that kind of leisure cruise – heck, you could do that in a golf cart. Instead, you are planning on doing some serious off-roading when you strap in to your RZR. You never know what you are going to find out on the trail, but you can always plan on a wild ride – which is exactly why you got a UTV in the first place. Of course, the kind of wild ride that can take place out on the trail can lead to a number of unintended consequences – specifically, busted tires. If you hit a rock in just the wrong spot, or even land hard on a tree root, you may blast through the rubber on one of your RZR tires with no trouble at all. When you are driving near home, or near camp, this isn't much of a problem. What about when you are miles out on the trail? That's a different story altogether. Finding yourself miles from anything with only three good tires remaining is a major issue – which is why the
RZR Spare Tire Rack from Assault Industries
is a product that any Polaris RZR owner should carefully consider.
Be Prepared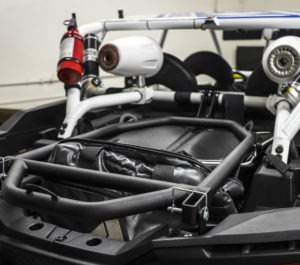 Taking a spare tire with you out onto the trail only makes good sense. After all, you have a spare tire in your regular car or truck, and you don't subject that vehicle to nearly the kind of pounding that you place on your RZR on a routine basis. Even with the
best possible RZR tires
fitted to your Razor, a puncture is always a possibility. With a spare close within reach, you can drive with confidence knowing you are ready to swap out rubber if the need arises.
Installation is Quick and Easy
You probably want to be spending your spare time out riding on your favorite trails, not installing a tire rack on the back of your UTV. Toward that end, Assault has made this RZR Spare Tire Rack easy to install with just basic hand tools, a little bit of time, and some elbow grease. If you are at all handy in working on your UTV – or even just working around the house – you should be able to handle the task of mounting this unit without much trouble at all. Also, you aren't going to have to alter the structure of the RZR in any way to mount the rack, so you can keep the solid construction of the machine intact.
Assisted Lift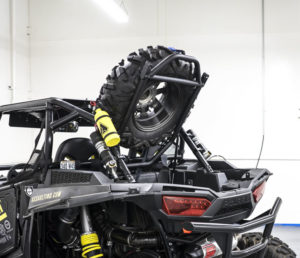 The feature that puts this tire rack over the top in terms of convenience and performance is the EZ Lift Assist system. This system includes a set of gas shocks that will help you as you lift the rack up to expose the rear deck of your RZR. As you know, the rear deck is a useful storage area, so you may need to get at it from time to time while on a trip. Without having to unstrap the spare tire, you can simply lift the rack with help from the shocks, access the deck, and then lower the rack back down with ease. So simple, and yet so brilliant!
Made to Last
With just one look at the Spare Tire Rack that Assault Industries offers for the Polaris RZR XP 1000 Series, you will know that this unit means business. The product is made from 1018 steel, that offers impressive strength and rigidity, which is exactly what you need when blasting around the off-road trails. Also, it is finished with a black powder coat to not only make it durable, but also to offer a great look that will blend nicely with the rest of the vehicle. Nothing about this product says 'cheap' – everything from the design to the construction says that this rack was build to last, and it was built to take a pounding.
Secure Tire Grip
The last thing you want is to have your spare tire flopping around in the back – or even falling off – while you are bouncing around on the trail. To prevent that from becoming a problem, Assault has fitted a secure 'Y' strap system that will hug your tire over even the largest whoops and jumps. You can carry a tire up to 31'' in diameter with this rack. Anyone who drives their Polaris RZR XP 1000 series hard out on the trail needs to carefully consider adding this quality RZR Spare Tire Rack from
Assault Industries
. With the durability to last in harsh conditions and the convenience of the EZ Lift Assist system, there is a lot to like about this product.