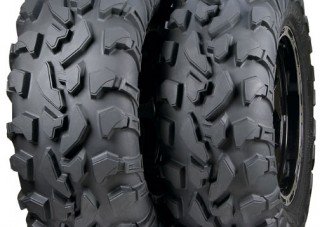 As the only part of the vehicle that actually touches the ground, tires are one of the easiest and most affordable upgrades to the RZR 900. The variety of RZR aftermarket tires is huge, with manufacturers offering unique designs that are perfect for all kinds of conditions, from snow to mud to rocky desert. Stock RZR tires are not terrible, but if you really want to customize your ride for the best possible offroad experience, then consider these intriguing alternatives.
Douglas Doonz
Beaches and sand dunes are popular destinations for UTV enthusiasts who want to show off their rides or simply get away from it all. Powering through the sand with ease demonstrates just how versatile the Polaris RZR 900 can really be, assuming you've mounted the right tires for the job. The good news is that sand tires are one of the hottest categories in RZR aftermarket tires. Douglas Doonz makes tires that are ideal for joyriding in sand, no matter the consistency. The rear tires have a unique paddle design for maintaining traction on loose, soft sand. Other than the eight paddles stretching from sidewall to sidewall, the tire surface is perfectly flat, which keeps the engine's power applied to the ground and not wasted. The front tires each have two rows of square knobs offset toward the inner sidewall. These knobs improve turning response and maneuverability on loose surfaces as they dig in like huge rubber teeth. As for the tires' footprints, the rear tires are 13 inches wide and the front tires are 11 inches wide. Compared to stock RZR tires, this is an extra two inches of width on the front and back, which is useful in the soft stuff. Both tires stand 25.5 inches tall, allowing plenty of wheel clearance as you glide effortlessly up and over even the most mountainous dunes. Douglas Doonz has also developed a custom rubber compound for their RZR offroad tires. Combining strength with low overall weight, these tires ensure that the engine's power is transmitted to the ground with optimal efficiency.
Gorilla Silverback Tire
Silverback tires from Gorilla are some of the meanest-looking RZR tires on the market. Their gnarled appearance says one thing: "I will never be stuck in the mud." The Silverback boasts numerous unique features all designed to keep the RZR moving forward, regardless of trail conditions. Unlike most tires for the RZR, the Silverback's lug (tread surface) wraps all the way to the rims on both sides, providing the ultimate in traction. The tread itself is among the deepest available – up to 1.75 inches on the larger sizes. Mud is simply no match for these monsters. When you're not plowing through the mud, Silverbacks feature a self-cleaning tread. In other words, traction won't suffer because the tire becomes caked in dried mud. Silverback tires come in a variety of sizes. The largest size that will fit the RZR 900 without the help of a lift kit stands 28 inches tall, with a 12-inch footprint. Tires up to 30 inches tall are available, as well as shorter tires with wider footprints. Silverbacks are no lightweights, either. Depending on the size, these tires weigh anything from 30 to 40 pounds, making them relatively heavy for RZR offroad tires.
Terminator
Quality mud tires are something every RZR owner should consider. Nothing's more frustrating than having to winch yourself out of a hole every time you go too far off the beaten path. Typically, mud tires are big and heavy, with thick, knobby tread for getting traction in the slimy stuff. Terminator tires fit this mold perfectly, making them among the best RZR aftermarket tires in their class. Terminators are available in two sizes for the RZR 900 – 28 inches and 29.5 inches. At 29.5 inches, you will likely need a lift kit to provide proper clearance. With a tread depth of 2 inches, there are few holes that these tires can't pull you out of. Ruts are no problem either, because the tread wraps nearly all the way around the tire, providing that all-important side bite. Rim guards protect the wheels from the inevitable scratches and dents that happen out on the trail. The Terminator's 6-ply construction means great toughness and durability, but also a bit more heft than stock RZR tires. The larger Terminators weigh in at 45 pounds, making them heavier than most. On hard, dry surfaces, Terminator tires don't give up anything in terms of comfort or performance. The treads are designed for smooth, even ground contact with minimal bounce. On the other hand, these tires were not made for sand or bottomless swampland. Terminators need something to grip if they're going to perform at their best.
Artrax CTX
Many folks just want a reliable all-terrain tire for their RZR 900. The Artrax CTX fits that bill: It's versatile, lightweight and rugged enough to manage in most trail conditions. In fact, the Artrax CTX is slightly smaller than stock RZR offroad tires. But that doesn't mean they can't deliver big performance. Like many RZR aftermarket tires, the Artrax CTXs come in different sizes for the front and rear wheels. The rear tires have a 10-inch footprint with knobby, moderately deep tread in a crosshatched pattern. The front tires have shallower treads, along with a smaller 8-inch footprint. Both front and rear wheels stand 25 inches tall, which is two inches shorter than the factory RZR tires. Clearance between the tires and the frame and suspension components is a non-issue with the Artrax CTXs. Artrax CTX tires are perfect for smooth, dry trails. Keep in mind, however, that these tires are still not street legal. The relatively flat profile of the Artrax CTXs, especially compared to mud tires, creates one of the smoothest rides possible in a UTV. Six-ply construction equals great resistance to punctures. Because these tires are so light (23.5 lbs. front/29 lbs. back), you'll probably notice quicker acceleration and higher top-end speed. The physics are simple: Lighter tires require less energy to get them turning.
Interco Swamp Lite
The Swamp Lite tire from Interco combines good performance with affordable pricing. While the Swamp Lite isn't going to beat out many of the specialty RZR offroad tires, it does have the benefit of being a tubeless, all-terrain tire with some unique and attractive features. Six-ply construction, for instance, offers plenty of durability in any condition. The most unusual feature of the Swamp Lite tire is that it's tubeless. While not immune to flats, tubeless RZR tires do go flat less often when properly maintained. Some argue that tubeless tires actually perform better, but the jury's still out on that one. As for the tread, the Swamp Lite offers a decent 1.25 inches of tread depth on the 27-inch tires. The forward-swooping V pattern of the tread is designed to improve steering stability. With the lug reaching well over into the sidewall, ruts and mud holes can be tackled with confidence. The well-spaced treads make for easy cleaning, either manually or with a timely application of the throttle. For eco-conscious RZR owners, the Swamp Lite promises less ground disturbance. In other words, trails will stay in better shape when these tires are mounted. As all-terrain tires, Swamp Lites can go anywhere, but they're most at home on mud, snow and hard-packed surfaces.
Pitbull Rocker Uber XOR
While they're advertised as multi-purpose, the heart and soul of Pitbull's Rocker Uber XOR tires is in extreme rock climbing. Every design element in these tires has been geared toward navigating the most unfriendly of terrains. At first glance, the XORs are not radically different from the stock RZR tires. They're 26.5 inches tall, with 9- and 11-inch footprints on the front and rear, respectively. On closer inspection, however, it's clear that these tires are way above average. The knobby, stepped tread pattern appears almost random, but there's method to the madness; the XOR's treads increase lateral traction and stability, quite helpful when balanced precariously between boulders. Another feature of the XORs is their knack for self-cleaning. Mud, sticks and rocks don't stand a chance. Simply throttle up, and any foreign material will be easily kicked out. The XORs might just be the toughest RZR tires on the market, too. Built-in rim guards protect the vulnerable area where the wheel meets the tire. Pitbull's patented rubber compound is extremely hard without being extremely heavy. Last but not least, the 8-ply rating means that only a well-aimed spear is going to pierce these beasties. Clambering over rocks and downed trees will probably never be "comfortable," but Pitbull has gone a long way toward making a tire that rides easy regardless of trail conditions. Chattering and squeaking are all but eliminated with the XOR's rounded edge tread blocks.