Protection, Cage Safety, Comfort, Fuel Safety!
If you've been following along on our buildup of our race RZR, you'll know that we're trying to build a budget racer capable of racing both short course and desert races. Here's what we completed in the last issue for Stage 2: 1) Dirty Dawg Performance Torque Cam, Fuel Controller, and Bored Throttle Body 2) Stock Roll Cage Reinforcements 3) Frame Sleeving 4) SRT Racelocks 5) Goodyear MTR tires 6) Machine Trix Side Mirrors 7) Xtreme Machine and Fabrication Rearview Mirror
For Stage 3, we're going to be covering:
1) RPM Fab Front and Rear Bumpers 2) Staun Internal Beadlocks mounted on Douglas Red Label .190 Wheels 3) Metal Tech Off-Road Roll Cage 4) Beard Super-TZ Suspension Seats 5) Fuel Cell 6) Wrist Restraints So, to get started, let's talk about having the proper protection on a race UTV. This is important, because "bumpin' is racin'" according to most! And, to get whacked in the front or rear could easily disable you on a Polaris RZR, since it doesn't have any bumpers in stock form. After doing some research on what was available to consumers right now by way of bumpers, I discovered that 99% of them were tube bumpers and only one company made steel plate bumpers more similar to what you'd find on a truck. After seeing a set of RPM Fab's RZR bumpers, I knew that's what we should have on the RZR. RPM Fab's bumpers are bolt-on front and rear bumpers that require only basic hand tools to install and take roughly 30-60 minutes/bumper to install. And, I have to admit that these are, in my opinion, the best looking bumpers on the market right now for a RZR. And, I can also testify to their strength after racing at the Whiplash Firebird GP with the rear installed. We got whacked in the rear on numerous occasions during the practice and race, and the only very slight damage we had was a slight bend to the vertical support on the driver's side. But, outside of that, nothing on the RZR was damaged, so it definitely did its job very well. We didn't have a chance to mount the front bumper in time for that race, but I also didn't need it much. The RZR was fast enough to stay out front most of the race thanks to Dirty Dawg Performance. All in all, though, RPM Fab's RZR bumpers are state-of-the-art, functional, durable, and definitely look awesome.
Next, we're planning on running two different sets of wheel/tire combos on our race RZR: one for desert races and one for short course races. Why, you ask? Well, although in both cases we'll be running Goodyear MTRs, we're going to be running 14" SRT Racelocks on our short course races and 12" Staun Internal Beadlocks mounted on Douglas Red Label .190 Wheels for desert. So, you're probably wondering why the extra expense of having two different sets of wheels, right? Well, this is one area we felt that having the right setup will save us in the long run. During our short course races, we're going to be running SRT Racelock's super trick 14" beadlock wheels mounted to Goodyear MTR 26"x9" tires at all 4 corners. We feel that running 14" wheels in this application helps limit sidewall flex for better turning response. But, for desert racing, we didn't want to run both a Beadlock and Tire Balls to keep the wheel/tire weight to a minimum. Although the combination of Tire Balls and Beadlock wheels have proven virtually indestructible, we wanted what we thought would be a competitive advantage in this area of the buildup. So, to achieve this, we'd been in touch with Staun Products for quite some time to see when their UTV Internal Beadlocks would be available to the public. I've known about them for years in the truck market, but this is the first time they've introduced their revolutionary internal beadlocks to the UTV market. And, luckily for us, we had their first set to test on our race RZR. And, before we get into the specifics of how these work, we had to find a wheel capable of withstanding the abuse that a desert race is known for. So, we turned to Douglas Wheel to supply us with some Red Label .190 aluminum wheels. Before we put the scale to this tire/wheel/beadlock combo, we were really hoping to have a combination that would allow us to run a desert race without carrying a spare and also be the lightest beadlocked RZR wheel/tire combo available. And…drum roll, please…I think we might be there. I'm not 100% sure if it's truly the lightest out there, but they only weigh 27.6 lbs total. This is a combination of 18.8 lbs for the Goodyear MTR, 6.6 lbs for the Douglass wheel, and 2.2 lbs for the Staun Internal Beadlock. We haven't weighed every tire/wheel combo available, but my guess is this combination is lighter than 95% if not 100% of what's out there. But, keep in mind, this was only one motivation for running this combo. The second reason to weigh was the Staun's ability to act like a 50 psi run flat and bump stop to prevent pinch flats. So, to give you an idea of what I mean, the Staun Internal Beadlocks are essentially an internal bladder that when inflated presses up against both the inner and outer beads of the RZR wheel from the inside out.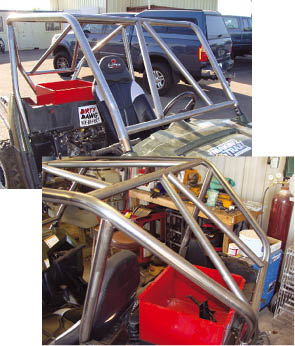 So, instead of having just an outer beadlock like most, this locks in both the inner and outer bead, which is the ultimate method, but hard to do with the minimal rotor/wheel clearance available on a small 12" wheel. In simple terms, by airing up the internal Staun bladder to 50 psi, this prevents your tire from pealing off the bead. To install the beadlocks, all you'll need is basic hand tools and the total install time for us was just under 2.5 hours for 6 wheels/tires. And, lastly, we mentioned it acting like a quasi run flat and 50 psi bump stop, right. Well, when you're blazing down a rocky trail wide open and a huge rock appears under your tire, one of two things will happen. Either the rock impact isn't big enough to cause your tire to hit your wheel, or it does and you pinch flat and/or potentially damage your wheel. When running Staun Internal Beadlocks, this problem is no longer an issue. When that same rock hits the tire and begins to compress the tire into the wheel, all of a sudden it hits the 50 psi filled Staun Internal Beadlock, which prevents it from hitting the wheel and therefore resists a pinch flat. In addition, if your tire does go flat for some reason, you can much more easily run through the desert on the Internal Beadlock than the wheel and tire without it, because it essentially keeps the ground off your wheel a couple of inches. Sounds good, huh? Well, we had a chance to test this tire/wheel combo at the Whiplash Firebird GP, which ended up being more like a supermoto course with a combination of short course and pavement instead of short course and desert. Either way, the tires and wheels performed flawlessly and could have been a major factor in our 1
st
place win, due to their super light weight. Stay tuned for more testing of this tire/wheel combo by Staun Products and Douglas RZR wheel in our future desert races.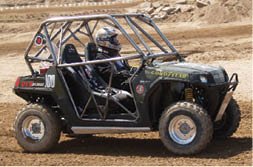 Next, we had to make the decision on how we wanted to build our final Polaris RZR roll cage that would encompass doors and the fuel cell. So, we went to Metal Tech Offroad to see what they thought would work the best for our application. After discussing our needs for a fully bolt-on RZR cage that would protect both the driver and passenger and our vulnerable fuel cell, we came up with what we all thought was a very nice looking and extremely functional setup. In the last issue, due to time, we were rushed to only weld in some additional gusseting to the stock roll cage. Although this wasn't the best scenario, it seemed to work pretty darn well after rolling it at 40+ mph in the Soboba GP and while testing. But, we knew this wouldn't work for our full race setup. So, when we began the build with MTO, we knew we wanted a virtually indestructible cage with function/durability/safety first and looks second. But, to our surprise, I think we got it all with this cage from MTO. As we mentioned in the last issue, having the proper gusseting, cross bars, and main supports to the cage is vital to having a cage hold up during a bad roll. So, as MTO began the process of welding and bending the tubes, it was soon obvious to us that whether the impact was from the side, the front, the rear, or any angle in between, there shouldn't be any problem with this cage. In fact, in our Firebird GP race, we were hit a couple of times in the passenger side door bars and nothing moved, except for the exposed plastic. We were very happy it held up to the hits with no harm done to us or the vehicle. And, if you haven't talked with any of the shops in your area about space in a RZR, you'll soon find there isn't any excess room to waste when trying to fit your suspension seats, fuel cell, and the cage in there. But, to my surprise, MTO was able to fit the RZR seats and the fuel cell in the perfect place to allow for maximum legroom, which was crucial for our tall drivers.
This leads me to the seats we chose for our race RZR. And, when it comes time to choose seats, it was also the time to decide if we were going to fully break down the RZR, widen it, and lower the mounting points of the seats. But, after looking at it with MTO and others, we decided that the only practical way for us to install these seats any lower than stock was to cut the frame in half and lengthen the wheelbase of the RZR. But, after talking to Cory Sappington, the frames have to remain in stock form to be race legal. Now, don't get me wrong, we could easily widen the whole car as most have done with Rhinos and other RZRs, but when I did the math, it made no sense to do this. The reason is that the way we figured it is if I widen the car 6" on each side to lower the seats, we'd have to lower the seats 6" to achieve the same center of gravity (COG), and this is a very simplistic way of looking at it. And, after looking at lowering them 6" taller drivers would never be comfortable, because our knees would be in our chests. So, needless to say, to remain legal, we went with Beard Super-TZ seats that mount in the stock location on the stock RZR seat pans. All you have to do is pull the stock pans off the stock RZR seats with 4 torx screws, place them on the bottom of the Beard Super-TZ seats and put the nuts and washers on. It's that simple, and the huge benefit we found with them is that with our MTO cage, we were able to place the driver's seat within ¼" from the clutch cover which was further back than stock. What we found is that these seats are way more comfortable than the stock RZR seats, and have a nice relaxed leaned back position to them. Whether you're cruising around the campground or doing full on racing like us, these seats are a vast improvement over stock in comfort, looks, and durability with top notch construction, as well. To become legal for most racing circuits, you need to have a fuel cell instead of the stock gas tank. The reason for this is that a fuel cell is safer in the event of a rollover and prevents exploding. In addition, you have to run the vent tube around every corner of the fuel cell after a 6" loop and down to a point lower than the bottom of the fuel cell. This prevents fuel from leaking out if you're sitting on your lid because our adrenaline surpasses our common sense. We went with a 12-gallon fuel cell that will allow us to race both desert and short course races. If we had just built this car for short course and GP's, we'd probably have put in an 8-gallon unit instead. To install it, we used the stock fuel sending unit and connectors to keep it simple and inexpensive, plus allow us to keep our stock fuel gauge intact. Overall, this was a fairly easy install requiring some knowledge of the racing rules for the vent tubes, and that was about it.
Last, but not least, since we didn't have our window nets or door skins on yet, most race promoters require wrist restraints. The idea is if you roll over, you can't throw your hands out to get crushed by the UTV. I had never used them before and was a little worried that I'd feel restricted, but I soon found out they don't get in the way at all. And, the added security is definitely welcomed when you're head to head against some stiff competition. In fact, along these lines, I believe the more safety equipment you have on the better, honestly. We only live once and riding on the edge of the requirements isn't something I'd recommend. In fact, if you ask Keith from B&A Motorsports after his hard wreck at the Firebird GP, my guess is he's happy he was in a very safe, overbuilt car along with all his safety gear. All in all, the RZR performed flawlessly in our race, placing 1st in the qualifier and 1st in the main heat. In addition, we were only 1:21 behind the overall leader, placing 7th out of 28 UTVs overall. A huge thanks goes out to all our sponsors in helping us achieve these great results. Look for us to be even more competitive as we get closer to finishing up the RZR. Stay tuned for our next issue where we install our Mafia Industries Long Travel Kit, Gorilla Axles, RPM Fab door and roof skins, and much more.