We add some support to our frame, some billet, and shade. 
We've  been adding a lot of products onto the Project RZR, some cosmetic and some technical. They have been on the RZR all through the testing we have done with the unit, and so far none of them have failed and have improved the quality and looks of our Polaris RZR.  Even the pretty ones have made it through the brush, trees, and rocks with a few scratches but are still looking good. Any products that we put on our project units have to be able to withstand the abuse that we put them through.  And when we take these units to an off-road show, the public can see the results of our build and the content testing we put these products through. Some of our items in this issue are cosmetic, some utility, and one is technical. They were all put to the test in a grueling 120-mile run through the desert and all still look great thanks to some help from a pressure washer.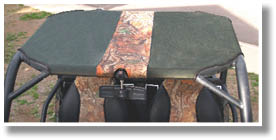 Since we changed out our RZR stock cage to the custom one that Jagged X built for us a few months back, we have been riding without any cover. Now that the sun is starting to warm up in Arizona, it was time to get a cover.  We were so happy with the seat covers that Les at Arizona Reflections  made for us, we called him to see if he had any material left over for a top. We thought a whole camo top would be a bit much, so the majority of the top is green Sunbrella with the camo material going down the center.  The velcro fasteners that they use do a great job of holding the top on.  Once, I forgot to take it off and went on a 300-mile trip with the RZR in the back of the truck, and I couldn't believe it stayed on and did not tear.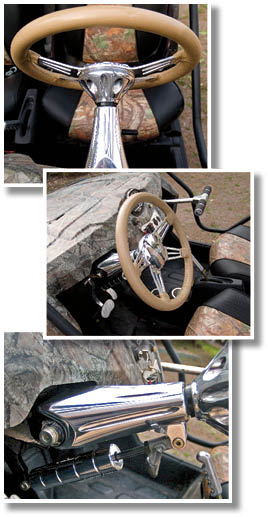 Next, we added a Billet Helmet holder from DMI Racing. It seems like I'm always looking for my helmet, because I don't have a place to put it in the limited space in the cab area.  We were over at DMI Racing and saw this cool little gadget laying on the desk, this is something that has been used in sand cars for years, and thought they would be just the thing to organize my helmet problem. When just cruising around camp in the Polaris RZR, your helmets, gloves, and goggles are up out of the way and ready for use when you head out on the trail. No excuses that you left your helmet back at camp and have a cracked head in your future. We picked up these RZR shock tower supports to help stabilize the rear upper frame. As much testing as we do in many strange places, we needed all the support we could get. If you do a lot of jumping or rock crawling where you're twisting the frame, this will add a lot of strength. This is an easy bolt-on kit and is  CNC machined from 6061 aluminum.  It is lightweight but strong and comes with grade 12.9 hardened replacement hardware, available in black anodized or machine finish.
Accutronix has been making some of the finest billet accessories for the motorcycle industry for years and have now brought that quality of work to the UTV crowd. They have products for all of the different UTVs, but the one that caught our eye was the complete replacement for the Polaris RZR steering column, cover for the hydraulic piston, and the steering wheel hub and cover.  None of these items make the RZR work any better, but they certainly make it shine.  And it does seem to steer better-- or is that just me.  We finished it off with a Lecarra steering wheel and the leather wrap on the wheel is really easy on the hands.