Last year when we received one of the first Polaris Ranger RZRs, we wanted to do something different to this new exciting entry to the UTV market. We knew that everybody was going to add everything bling possible to these new machines, so we took the approach that would keep it trail ready and really be usable, and use it we did. In doing this, the build was going to supply editorial coverage for manufacturers that produce products and accessories for this new unit, and, two, provide our readers information about available products and give the do-it-yourselfer insight into how they can pull together a custom vehicle with a host of manufacturers' products. Since this was a new UTV on the market, it was also going to be a test vehicle for our shootouts and new products that were being developed for the RZRs. One of the first vendors that were developing new products was Walker Evans Racing, with shocks built especially for the RZR. We have never been disappointed with their shocks in the past, and they have proven to be a great shock thus far. OMF Performance provided us with a new set of 3- piece billet beadlocks with an offset that would provide us a little extra width for stability.  We wrapped the wheels with 27" Goodyear Rawhides, and in the last 1280 miles they have excelled in every possible terrain.  The above products have been able to withstand everything we threw at them and really enhanced our riding experience. It has been a long year, and other products could have been installed, like a long travel kit, but we wanted to keep it accessible to the majority of all the trails we go on. Besides, it still fits into the back of my truck. This is a review of everything we have added to date. During this process, our RZR has gone through many stages, and everything we have done has been a major plus over the stock machine. The Polaris RZR is one of the most exciting units to hit the market, but like with any vehicle, there is always room for improvement and, of course, a few bling items were added on. We've had the opportunity to put some time on the products installed, which gave us some time to evaluate all of them. So, let's look at the products on our RZR and a brief evaluation.
Exterior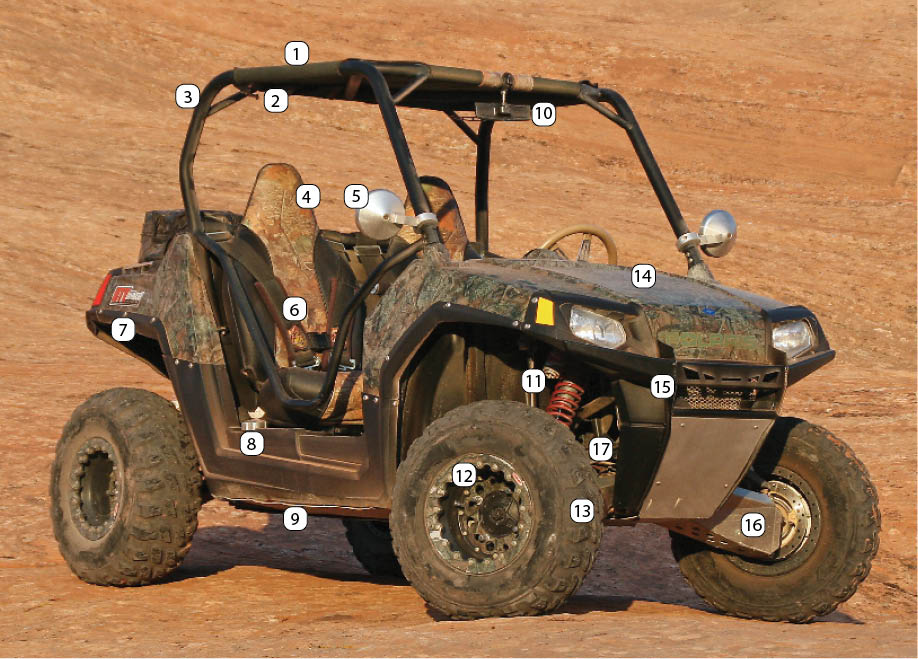 1. Arizona Reflections Bimini Top
Getting some much needed shade while riding out on the desert was of prime importance. The top is made from a green sunbrella with the camo design going down the middle and has velcro fasteners for quick removal.
2. DMI Racing Billet Helmet Holder
We wanted to have someplace for our helmets when taking a break or in camp, so we installed some billet helmet holders on each side. Keeps them safe and up and out of the way.
3. JaggedX Custom RZR Cage
Looking at the cage, we wanted a little sportier look but keeping the lines of the original cage. They came up with one that was 2 inches shorter with side bars to keep your knees from falling out. It was finished off in a black crinkle finish, which takes a lot of abuse but is easy to clean.
4. Arizona Reflections RZR Seat Covers
These seat are really seat covers. Instead of having to take off the original seat covers and staple your new ones on, these just slide down over the existing seats and have an extra quarter inch of padding in them. Finished off in a camo material to go with the body.
5.  Machine Trix Billet Side Mirrors
Side mirrors are great for different viewing angles and backing up. These are from Machine Trix, inventors of this type of mirror. Made from billet aluminum and are fully adjustable.
6. DragonFire Racing Four Point Harness / Sternum Strap
Heavy riding, rock crawling and duning we needed a harness that is going to keep you in the seat. These heavy duty wide belts have plenty of padding and a sternum strap to keep them from sliding off of your shoulders.
7. Todd's Custom Billet RZR Billet Body Caps
These little billet body caps add a little flash and keep all the trim a little more secure to the body.
8. Autotude Billet Gas Cap
Heavy duty gas cap made from Billet Aluminum. Doesn't help your gas mileage, but makes you look good.
9. DragonFire Racing Aluminum Skid Plate
Made from 5052 Aircraft Aluminum, these skid plates add more protection underneath. Comes with rocker/side plates and bolts into original holes.
10. Extreme Machine & Fabrication Rear View Mirror
A large mirror just didn't fit right, but this billet rear view mirror works just perfect. Wide viewing range and comes in either black or billet.
11.  Walker Evans Racing RZR Shocks
Some of the first shocks made for the RZR were being made by Walker Evans Racing, and we were glad to put them to the test. The ride difference is astounding.  After 1200 miles and a variety of terrain, they are still going strong.
12. OMF Performance 3-piece Beadlocks
Two of the most upgraded items for UTVs are tires and wheels. You can either get non-beadlock or beadlocks. We wanted something that was tough and will lock the tire to the wheel. By locking the tire to the wheel, you can run on a flat without the tire coming off the wheel. It also helps in cornering when the tire might take on some small rocks, causing a slow leak. While they are not cheap, they will save you money in the long run. Racers and rock crawlers run these for a reason.
13. Goodyear Tire Co.  Rawhide/MTR
This tire proved worthy in our tire test and has been a good light and durable tire in all of our testing. We wanted to add a little height to the RZR, so we went with the 27x10x12 in the rear and the 27x8x12 in the front.
14. Watermark Hydrographics Decorative Finishes
Everybody is always looking for something different to make their RZR stand out from the others, and we're no different. We had Watermark Hydrographics waterdip the plastics to create the only Camo RZR in the U.S. It gave it a distinct look and has been received with great reviews wherever we go.  www.watermarkdipping.com -423-663-1000
15. RPM Performance RZR Front and Rear Bumpers
Protecting the body from harm is something you need to address when riding on trails or rock climbing. There are a lot of good looking and strong bumpers on the market, but the ones we decided on are from RPM Performance. Not only did we like the flat steel design, but it hugs the body. When we load it into the truck, the bumper is not banging against the back window.
16. Dirt Performance CV Guard
Banging into rocks or have them jumping up at you and ripping a CV boot is something you want avoid. These guards really cover the front, underneath and back with great protection. Ride with the confidence that the rocks aren't going to make you walk back to camp.
17. High Lifter 2" Lift
If you do a lot of riding in the desert where big rocks grow, or if you like to rock climb, try to jump logs, or any other riding that needs clearance, then you need to be putting on a lift.  A lot of companies are making 2- and 3-inch lifts for the RZR, and since we were running 27" tires, we decided on the 2" lift from Highlifer.
Interior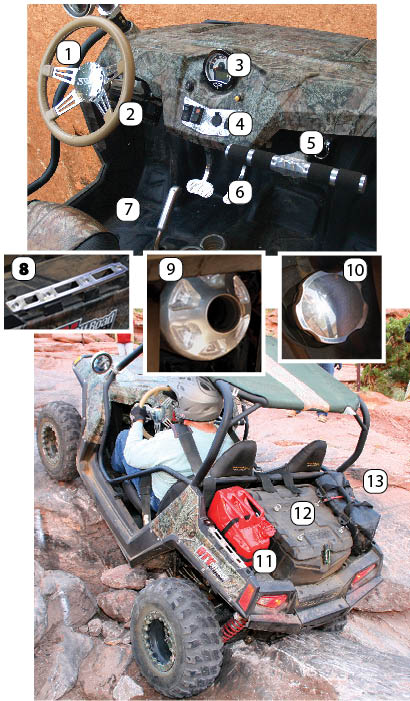 1.  Lecarra Steering Wheel
The comfort that the Lecarra steering wheel we found over at JaggedX offers has been a plus while driving. Accutronix finished it off with a center cap with our logo in it.
2. Accutronix Off Road Billet Steering Column
When adding a little bling to the RZR, we found a complete replacement for the steering column, cover for the hydraulic piston, steering wheel hub and cover. Accutronix has been making some of the finest billet accessories for the motorcycle industry for years, and these are really quality products.
3. & 4.   Todd's Custom Billet Dash Accessories
Adding a little more billet to the dash area came in the form of a Speedo Ring to sharpen up the gauge, and a pretty sweet dash plate to enhance the area around the switches.
5.  JaggedX Billet Grab Bar
Because of the get-up-and-go of the RZR, we knew the passenger would be hanging on to the grab bar a lot, so a new billet bar from JaggedX filled the bill. If you have to hang on to something, hang on to something cool and comfortable.
6.  DragonFire Racing Billet Gas & Brake Pedals
To add more aesthetics to the cab area, we replaced the plastic-hinged accelerator pedal with a solid one-piece unit that helped smooth out a lot of the jerkiness in the throttle. The brake pedal has been moved to the left just enough for 2-foot driving.
7.  JaggedX RZR Shifter Handle
We replaced the normal handle with this billet shifter from JaggedX that has finger grips on the front side. Shifting seems a lot easier with a billet grip.
8.  Todd's Custom Billet RZR Bed Rails
What's nice about these bed rails is that there are six places to place hooks instead of three. So they're not only good looking, but will not bend like the factory ones.
9.  Todd's Custom Billet RZR Exhaust Tip
This classy looking billet exhaust tip is just that, classy. You're not going to get any more horsepower from it , but it at least gives the guys behind you something shiny to look at.
10.  Autotude Billet Gas Cap
Closer look at this heavy duty billet gas cap.
11.  3x Off Road Metal Gas Can and Rack
The plastic cans just never seemed to work right. This one is all metal with a removable spout and a rack that fits all the L & R holes.
12.  Polaris Lock and Ride Storage Box
This storage box has been great to store all our extra stuff on the rides. Waterproof and keeps all your emergency items, lunch, or whatever all in one place.
13.  American Outdoors Soft Sided Cooler
By far this is the best cooler we have found. Not only does it fit in all the racks and doesn't scratch the powder coating, it keeps your drinks colder then any other cooler. We've tested this in the desert in the summer and still have cool beverages.