It isn't every day I get to go back to my hometown of Maryville, TN, let alone go back for a UTV event, as well. Two years ago, the Polaris RZR Forum organized a RZR specific Rally that I had a chance to attend with my Dad before ever starting to work for the magazine. The next year, we found out that they had decided not to put another one on, unfortunately. But this year they put it on again, and I was sure not to miss it. The 2
nd
 Polaris RZR Rally was a great success with over 75 Polaris RZR's and Rangers in attendance. I remember the first year, and if memory serves, they had about half that many vehicles. This year, instead of putting it on at Windrock, they hosted the event at Ride Royal Blue. Although probably only 20-30 miles away as the crow flies from Windrock, the Royal Blue area has quite the diverse offering of terrain. Having lived in Tennessee for 9 years, my buddies and I had ridden quite a bit of the general area's trails. But, I was excited to see all the changes, new trails, and of course meeting all the wonderful folks that had traveled from far and near to attend this year's Polaris RZR Rally.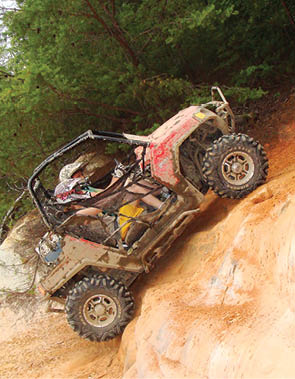 RideRoyalBlue.com is lead by Jessica Westray and her close family. As kids, living in Ohio, they always made the trip down to the Cumberland Mountains to ride their RZR's during the day and sit around their campfires at night. Their memories of the area grew fonder and fonder as time went on, which is how they came up with the idea for an ATV Ranch. Their facility includes full service cabins, 30 & 50 amp RV sites, tent sites, trailer parking, a beautiful log built restaurant, a recreation center, a well packed general store, and a pro shop full of items you might need while out trail riding. To get to Ride Royal Blue, take the Stinking Creek Exit off I-75, head East about 4 miles, and it will be on the right. Luckily for the campers, though, Stinking Creek doesn't live up to its name! In the past when I rode with my college buddies, we always stayed a few exits south with no facilities at all. It was fun as a kid, but as you grow up, having nice showers and bathrooms, a cozy bed to sleep on, and a nicely prepared meal (by someone else, I might add) is more than welcomed. Ride Royal Blue is situated in between two Wildlife Management Areas: Royal Blue and Sundquist. The amazing thing is there's enough variety of trails out here to let you ride for a week without ever having to ride the same trails twice with over 430 miles of trails and 130,000 acres. It's amazing to me how even after a short time of living out West how lush and green the landscape is in East Tennessee. The Polaris RZR Rally started up on Thursday night with a night ride and general check-in for everyone. Friday morning, we unloaded my Dad's Ranger XP and got ready to head out to the trails. It was quite a sight to see so many Rangers and RZR's all lined up and raring to go. And, there were folks from all over the country out there, which always amazes me when attending these events.
Even though gas prices are as high as they are, it's obvious that the UTV/SxS crowd has plenty of money and no less expendable cash for recreational activities. The Polaris RZR Rally Committee was doing a great job getting all the trails out for the day, which consisted of Scenic, Moderate, and Swifter rides. We opted, although not recommended, for the Swifter group, because we wanted some action. Needless to say, we were the only Ranger XP in the group of 15-20 RZRs, so we knew we were in for a treat. And, we've discovered why Polaris calls the RZRs trail capable! Although we made it everywhere the RZRs did, they definitely didn't get whacked with tree branches as much as we did. It was an awesome day of riding some fast paced trails. In fact, we got to the top of an old favorite trail of mine that we had typically run from the Caryville exit a few exits south of Stinking Creek. Needless to say, we had some adventurous folks among us that wanted to run some of the harder obstacles, including Harold Hunt from Super ATV and Doug Staats from Valley ATV out of Ohio. I knew if I stuck with these guys the rest of the trip, we were bound to get some good action shots. Well, the day ended back at Ride Royal Blue about 5pm. Our first day of riding was complete, and we were excited to get some rest and head back out the following day for even more great riding. We didn't stay the night, because my parents lived fairly close, but Polaris RZR Rally Committee put on what we heard was a nice potluck dinner which people really seemed to enjoy. For our second day of riding, we again opted for the swifter ride with all RZRs. What amazed me is that we probably rode close to 100 miles on Friday, yet on Saturday we never hit the same trails. And, they were a completely different style of terrain, as well. There were a couple play areas to mess around on, catch some air on, and some rather steep little climbs that Doug and his friends weren't afraid to play on. We were informed that we needed to get back in to camp earlier than the day before, because of all the festivities, including some major raffles.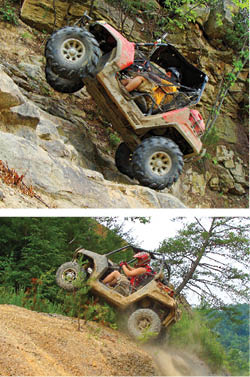 After getting back in, taking a shower and drying off with paper towels (don't ask!), we started meandering our way to the barn where all the goodies and food were going to be served. They had a great dinner served up by the nice folks at Ride Royal Blue, and to top it all off, homemade peach cobbler. Yummy! One thing I miss about the south is all the great cooks they have down there! After our bellies were full, Neal got up and started raffling off all the prizes they had for the evening. And boy, did they have some prizes. The final 3 prizes were quite large prizes, which included a Full RZR Cab from Rangerware, a Dixie Chopper, and a Polaris RZR. Needless to say, I bet Coach Collins, Chase Frederick, and Brian Morton were very pleased with the top three prizes. All in all, we had a great time attending this year's Polaris RZR Rally and look forward to attending again in the future. The great folks of the Polaris RZR Rally Committee headed up by Gary and Neal did a fabulous job organizing this event. 'Til next time, I'd highly recommend looking up www.rideroyalblue.com and taking a trip down there for yourself. And, if you're not from the South, you'll never forget the wonderful thing they call "Southern Hospitality."