Polaris RZR Bumpers by Assault Industries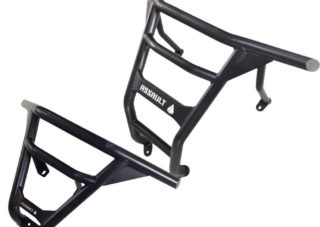 As you know, a Polaris RZR UTV comes pretty well equipped right off the showroom floor. If you purchase an XP 1000, for instance, you will be ready to go as soon as you get it home or out to your favorite spot in the woods. There is a reason that the Polaris RZR line is so incredibly popular – these are great machines, and they are purpose built for the kind of use that you have in mind. Of course, that doesn't mean you have to be satisfied with simply driving around in your stock RZR straight from the dealer. By adding some aftermarket parts, you can improve on what is already a great machine. In this case, we are going to take a look at adding some aftermarket bumpers from Assault Industries. The
front and rear Apache Bumper Set
is a must-have for any serious UTV rider, as the ride around your favorite trail is rarely going to be a smooth one.
Why Bumpers for your RZR?
For anyone with a little bit of experience on an RZR, there really isn't any need to answer this question – it is no secret why you want a set of RZR bumpers on your Polaris Razor. There is a good chance you are going to run into something at some point on your rides – and in fact, you will probably run into more than a few things. Whether you are simply catching some branches on the way through the woods, or you back into a stump trying to get out of a tight spot, you'll be happy you have these bumpers in place. Once you have invested in your own RZR XP 1000, you want to do everything you can to keep it in good shape for years to come. Sure, you are going to ride it hard, but you also want to care for it so you can keep riding hard as long as possible. Making sure nothing gets a clean 'shot' at your RZR is no easy task when you are going full-bore on a trail, but these solid Apache RZR bumpers will make it far more likely that you will come out unscathed.
High Quality Product
Simply strapping on any old set of bumpers just isn't going to do when you have a vehicle as nice as the Polaris RZR to protect. Fortunately, Assault Industries would never take anything to market that wasn't worthy of your consideration. These bumpers are made from a lightweight, mandrel bent tubular steel that is designed to 'take a punch'. As is the case with many of the great RZR products offered from Assault, the Apache RZR bumpers can be installed on your ride with just basic hand tools and a limited amount of knowledge. The product is powder coated in black for a great, durable look.
Blends Right In
You probably don't want to add anything to your RZR that looks out of place – and you certainly don't want to add anything that is going to allow your buddies to make fun of you on your next ride. There will be no worries on that front with this set of quality bumpers, as they look as though they came straight for Polaris themselves. This is a product that looks natural on the RZR, so you will be proud to roll out in your RZR once these bumpers are in place.
Let There Be Light
If you are interested in adding an LED light bar to the front of your vehicle for better visibility after the sun goes down, the front bumper in this set comes designed for just such a purpose. There is a bracket included with the bumper set that is perfect for mounting aftermarket
LED light bars
as necessary to the front of the vehicle. Having a powerful light source on your UTV allows you to get more use out of the RZR, extend your ride time, and installing these bumpers makes it easy to mount a great lighting system at any time. In all, it is hard to find fault with any part of the Assault Industries Apache front and rear RZR bumper offering. These are lightweight, durable, tough bumpers that have a beautiful black powder coat finish, and they will offer the front and back of your vehicle all the protection it needs out on the trail. The installation of this product is quick and easy with only simple tools, so you aren't going to have to spend hours in the garage before you can go out for a ride. If you are interested in adding protection to your RZR XP 1000 in order to have confidence that you can ride hard while still caring for your ride, the Apache Bumper Set from
Assault Industries
is a great pick.