HID and LED Light Upgrades for Polaris RZR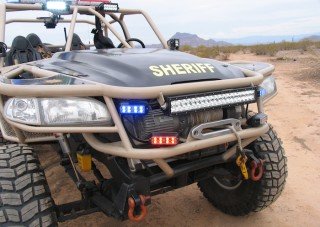 In the interests of safety and usability, it is important to select the right lighting for your UTV. If you make the wrong choice and end up with lights that are too dim or do not provide the correct field of view, you are not only wasting your money, but putting yourself and others at risk when riding in the dark. In no particular order, this guide takes a look at some of the best HID and LED light kits for your Polaris RZR.
Polaris RZR HID Light Options
The major upside of halogen lights for the RZR is that they can be replaced whenever you need to, with complete ease. Contrast this with LED light bars, which are much harder (and more expensive) to replace and install. Halogen lights do not offer quite the same level of performance as LEDs. Use the information provided below to compare for yourself.
Lapaz 100w Driving Lights
The quality of these lights cannot be contested, and they make a great addition to any UTV. Halogen light kits are harder to come by, but these bulbs are versatile and can fit into most standard light racks – you can often switch your stock bulbs for these ones with no trouble whatsoever. Lapaz offer these lights with a lifetime warranty, which is a testament to their competition-beating quality and longevity. These lights provide a 20 degree field of view, and are designed and optimized for long range visibility, lighting up the scene clearly for those night time drives. Top racing teams rely on this brand, and as an upgrade for your Polaris RZR UTV you will not regret the purchase.
| | |
| --- | --- |
| Features | 12V-14V input voltage, chromoly (high carbon steel) frame with black undercoating, 3-point vibration isolation mount, high impact nylon housing. |
| Pros | Tough, high-impact nylon housing. Lifetime warranty. |
| Cons | Glass lens is prone to breaking, comparatively expensive, and if your existing rack is not compatible, a new rack is required. |
Piaa 540 Xtreme White Lamp Kit
If you are versed with UTV brands for parts and accessories, you will know that Piaa is a staple of quality. A versatile lighting choice, this kit is the perfect size as a RZR light kit, and would make an ideal upgrade from the stock lighting provided as standard. In general, light kits make a good choice because you only need to make a single purchase for a full light assembly for your RZR RTV, as opposed to purchasing each light and component separately. This lighting option gives you all the lumens you need to keep the trail well-lit, a total power of 110W, and a wide field of view so you have complete control over your surroundings. The lights are simple to install and with reversible lenses there are number of mounting options. We have included this halogen option for its dependability, performance and reasonable price.
| | |
| --- | --- |
| Features | Comes with 2 55W bulbs, complete with glass lens and black stamped steel housing. Lens has a grid cover. Includes relay, switch and wiring harness. 30' field of view. |
| Pros | Ultra-slim housing makes installation easy. With a reversible lens the lights can be mounted down or up. Good value for money considering the quality. |
| Cons | They will need replacing eventually, and there are hardier lighting options available. |
Baja Designs Dual Fuego Light Kit
This light kit from Baja Designs is fully compatible with RZR, and is designed to give the complete halogen experience. The kit comes with 2 Fuergo Halogens (55W) in either chrome of black finish. The combination of these bulbs gives great range and function, with a standard bulb and another with a wider field of view for an optimal balance. Whether you are taking a quick ride or adventuring on a tricky trail on a moonless night, driving with these lights on your RZR will give you a real sense of liberation. If you are going to replace your stock lighting setup, the first thing you will notice is the performance, which is always important for keeping a clear view at night. They are a great option for an upgrade, and although they draw more amps than LED alternatives, you know that these extra amps are being put to good use.
| | |
| --- | --- |
| Features | 2 Fuergo Halogen lights. 9A output. They come with a long harness, waterproof switches and a 30A relay. |
| Pros | These lights give you a number of mounting options – on either front or on the side pillars. A great option for customization. |
| Cons | There is no mounting bracket included. Baja will soon be discontinuing their halogen lighting models. |
Polaris RZR LED Light Options
LED light kits are a popular choice as Polaris RZR replacement lights for the same reasons that people choose LEDs for many other demanding applications – because they are highly efficient, can deliver higher lumen output with a lower power draw, are durable and robust and last a very long time. This means if you go with a higher-end option, you can achieve some of the highest light output around, and still go on longer ventures without worrying about running out of battery. While they last longer than other lighting options, when they do finally go, they are harder to replace than halogen kits, so bear this in mind.
EZTSK Off-Road Light Kit
For the price, this complete LED kit comes with some of the brightest lights you can get, which for the efficiency makes it difficult to beat. As a full kit (complete with lights, wiring and connectors, mounting equipment, fuse and fuse holder and rocker switch) with many different options for customization and placement, it offers true performance and quality. There are two lights, and each light has 6 LEDs, (arranged 3 on 3) which offers a dazzlingly bright beam both in-front and on the sides of the UTV. The trail truly lights up, and with highly efficiency and long-lasting LED lights operating at a low 3A, you can safely get where you need to and take longer trips with a long battery life.
| | |
| --- | --- |
| Features | 2 lights (1000 lumens per light), 6 LEDs per light, auto select 12.24 VDC, Polycarbonate lens, aluminum housing with powder coating, stainless steel bolt and mounting bracket, maximum draw 3A. |
| Pros | Long LED life (100,000 hours), highly customizable, no bulbs |
| Cons | There are brighter LED options available on the market. You need to install two separate lights. |
Surge 12: High Intensity Light Bar
This is a high-end lighting option which will look great with your RZR and keep the trails well lit for a very long time to come. With 12 high-performance, 5W LEDs, this light bar can be easily installed, quickly providing you with a solid and steady beam of light that will handle the darkest of trails. The design makes for really easy bracket customization and set-up. For the brightness you get, the current draw is surprisingly low, so you can ride for longer. The light output has an excellent range, and unlike other options, the lights are arranged from end to end for very bright periphery light. Across the entire angle of lighting, the trail will appear like it is during the day, which is brilliant considering the low current draw. Fewer light kits will provide you with such a bright, enjoyable and safe RZR experience.
| | |
| --- | --- |
| Features | Each light delivers 3600 lumens, drawing only 5A in total. Rigging setup can be customized. Complete with wiring. |
| Pros | Enjoy truly long battery life on one charge. Stylish, low profile bar profile 2" high and 12" in length. No bulbs. |
| Cons | The price might put some people off. Comes with lots of separate LEDs. The length of the bar may not fit onto certain mounting areas. |
Rigid Industries 30" Light Bar Kit
This Rigid Industries light bar kit represents the pinnacle of performance-lighting UTV upgrades. This company are one of the top brands for UTV light kits and upgrades, and if you have not seen what their products can do then you are missing out! The 30" light bar is both easy to install and provides highly stable and highly intense light output (11,000 lumens), the lights come complete with reflectors on both the inside and outside to optimize light reach and angle of spread for excellent visibility, and with excellent vibration and water resistance, you can expect durability and longevity with marine grade materials. Rigid Industries are well-known for offering high quality products that last in all weather conditions.
| | |
| --- | --- |
| Features | Light bar with 60 LEDs (10,925 lumens total, 114W, 9.5A). Fully dimmable, with high-strength, unbreakable Lexan Lens. Outside portion of light provided by 8" of flood reflectors, inside portion of light provided by 22" of spot reflectors. Plug in and play harness. Waterproof, sealed connectors. Lifespan of over 50,000 hours. |
| Pros | No warm-up period for the LEDs – you get full intensity as soon as you turn them on. No bulbs or pesky hotspots, and no unwanted vibrations. Brighter than practically any other HID light option. |
| Cons | High price bracket. Draws more amps than other LED options. |