Sparks Racing Performance Packages for RZR 1000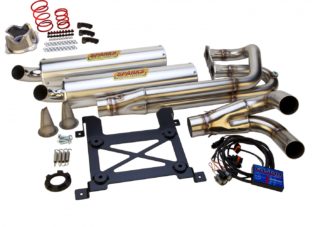 Have you ever heard the saying that you can have 'too much of a good thing'? That might be true in some cases, but it is certainly not the case when it comes to the performance of your RZR XP 1000. While the RZR comes with plenty of performance capability right from the dealer, adding even more speed and power is always a good thing – and you can do just that with a little help from Sparks Performance Products. Sparks offers three different 'stages' of
performance packages for the RZR 1000
. Each progressive stage offers more performance than the stage before, along with a higher price tag, of course. The stage that is right for you will depend on the way you use your RZR, the goals that you have for your machine, and the budget that you have for the purchase. However, no matter which stage you decide to choose, one thing is sure – you are going to love the performance boost you receive once this gear is put into place on your UTV.
The Basic Idea
Adding a RZR performance package such as the ones offered here by Sparks can accomplish a number of goals. Obviously, you are looking for improved performance when you pick up this kind of package, and you won't be disappointed on that front. However, you are also looking at the opportunity to lower the overall weight of your vehicle while also making it look better and sound better all at the same time. Bringing those four elements together – performance, weight, sound, and cosmetics – is what is so exciting about purchasing a quality RZR performance package. One of the big points that should be kept in mind when shopping for aftermarket
RZR parts for your Razor
is the fact that buying everything all in one place from the same dealer is a great way to maintain consistency and performance with your machine. If you were to try mixing and matching various parts in order to reach the desired outcome, you may find that things don't work quite as seamlessly as you might hope when it is all installed. Fortunately, you can avoid those headaches by sticking with Sparks Racing for a package that is cohesive and meant to work together. Want to avoid headaches down the line? Pick up a package such as one of the three offered here and forget about needing to bring everything together later on.
Stage One Package
The Stage One Performance Package might be the lowest on the list in terms of both price and equipment, but you shouldn't think of this as any kind of a low-quality or low-cost pick. These are quality products from a quality manufacturer, and they are ready to take your Polaris RZR to another level from a performance perspective. Included in this performance package is a slip-on exhaust kit, a Dynatek fuel/ignition controller, a clutch kit, and a heavy duty secondary clutch dampener. Once installed on your RZR, you should notice an immediate improvement in the driver experience that you enjoy when you get behind the wheel.
Stage Two Package
If you opt for the Stage Two Package from Sparks, you will receive an upgraded X6 stainless steel exhaust system kit. This kit will give you the chance to add a beautiful exhaust to your machine, addressing both performance and cosmetic concerns. Of course, you will still receive all of the other quality gear included at Stage One, so you will be able to give your UTV a complete facelift that will leave it working and sounding better than ever. After all, it wouldn't be any fun to just blend in with everyone else on the trail that is riding along in an RZR, would it? Use a RZR performance package and you will suddenly find yourself standing out from the rest of the riders you encounter.
Stage Three Package
At the top of the line, we find the Sparks Performance Products Stage Three Performance Package for the RZR XP 1000. This is the most expensive package of the bunch, and as such, it offers the greatest improvements in performance for your RZR and the most total equipment. Specifically, it is a Sparks Racing High Performance Intake that will set this package apart from the rest. Added acceleration will most likely be waiting for you when the performance intake is fitted to your machine, and who doesn't love to accelerate as fast as possible? If you are tired of your friends getting the jump on you while out for a ride, this Stage Three kit is the best way to go in order to fix the problem once and for all.
Cost-Effective Solution
For riders who are looking to quickly add performance and aesthetics to their RZR without breaking the bank, the packages offered by Sparks are a great way to go. You will be able to get the bolt-on performance that you desire for a cost that you can handle. It doesn't do any good to add performance to your UTV if you have to spend all of your money to do so – because then you won't be able to get out and ride! Stay within budget by opting for this kind of package and you can look forward to testing out the improved performance of your ride sometime very soon. You only want to add quality parts to your UTV, of course, because it is a quality machine to begin with. The Polaris RZR XP 1000 is among the most-popular machines on the trails today, and for good reason. This vehicle is already a high-quality product when it rolls off of the assembly line, so it is up to you to maintain the quality by choosing great parts. Dealing with
Sparks Performance Products
will allow you to do just that. Whether you are going to opt for Stage One, Stage Two, or Stage Three, you can be sure you will be getting quality gear that enables you to get the most out of every ride. Have fun and be safe!