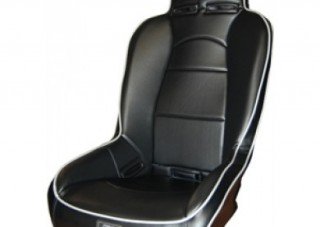 No matter how much you love your RZR, resisting the urge to customize is an exercise in futility! Yes, Polaris got it mostly right, but there are so many excellent aftermarket options, how can you resist? One of the best upgrades you can fit to your ride is a high quality set of RZR aftermarket seats. Modern RZR seat upgrades typically include internal construction made of multiple-density foam. This foam distributes the riders' weight more evenly, and doesn't crush easily or deform into a set shape. That means that even after long hours in the saddle, aftermarket seats for your RZR will retain the comfort and support you need on longer rides. When you buy your RZR seat upgrade, you'll immediately notice the difference. Replacing the stock seats with custom RZR seats usually means buying a suspension-style seat. These seats are built with flexible materials below the seat cushion and in the back of the seat, allowing the seat to move with your body and preventing all the shock of a rough trail from being transmitted to your spine and hips. Isolating yourself from bumps and vibrations helps you stay on the trail, in comfort, a lot longer. Choosing the best seats for RZR riders can be a bit of a challenge, but we've listed here five of the top choices for an easy install that leads to a lifetime of enjoyment.
UTV Giant RZR Seats
Proving that you don't need to spend a fortune, UTV Giant has a range of in-house suspension seats for the RZR. The company provides four different models to suit your tastes. All of these seats are covered in a high-grade black vinyl (for durability and easy cleaning) and feature accents in red, white, carbon gray, orange, and blue to match your RZR's custom color scheme. These are the most reasonably priced seats in our review, starting just above $200 per seat. Note that some of UTV Giant's designs have clearance holes for only the shoulder belts of your harness system, so check the models carefully if this is an important feature for you.
PRP Seats for RZR
Many larger drivers may be hesitant to install aftermarket seats for fear of losing limited legroom or entry clearance. The team at PRP Seats has your answer with their high back bucket seats. Their seats are tested to fit a 6'4" driver, at 280 pounds, comfortably. These seats provide guide holes for a four-point harness setup, but without an extreme "race bucket" shape. The seat is designed to keep a proper recline angle without moving the driver closer to the steering wheel. These seats are very customizable, as PRP offers a wide variety of materials and colors for the body, arms, back, and piping. While vinyl is the standard for easy maintenance, tweed, cordura, and suede are also available if you like. You can mix and match colors and materials to get the look you like, and an adjustable headrest is optionally available. These are a little more expensive than the seats from UTV Giant – the pair from PRP will set you back $600 – 650 without options.
Dragonfire Racing Seats
If you want a seat with a bit of racing pedigree, take a look at the Dragonfire Racing high back seat. Normally set out in high-performance black vinyl, custom colors are available on request. The seats come with a full set of guides for your shoulder and lap harnesses. Dragonfire also sells harnesses if you need to buy harnesses and seats as a set. These units use the factory seats' base plates, and installation is easy. A set of two Dragonfire seats will run in the neighborhood of $800, but consider this an attitude investment. The stylish logo on the headrest will look great inside your RZR!
Pro Armor Sniper Seats
Coming in around the same price as the Dragonfire seats is the Pro Armor Sniper. While the company is probably better known for their body kits, the Sniper is a top quality suspension seat designed to maximize driver and passenger comfort on long rides. The harness slots here are generously sized, so installing or removing your safety gear is much easier. The Sniper has been tested with passengers with up to 48" waists, so ease of entry and exit is guaranteed.
Twisted Stitch Revolver Seats
At the top of the list is the Twisted Stitch Revolver. Twisted Stitch offers multiple models, but the Revolver is uniquely built with a wider seat cushion to maximize rider comfort. The standard design is a black base with white accents and red piping, which really stands out in a crowd. The harness guides keep your seat belts organized and easy to put on and take off, and the generous side bolsters keep you in place during the roughest rides. These are not inexpensive seats, but the discriminating buyer will realize this is an investment in comfort during and after the ride. You'll have to part with $850 – 900 to capture the set, but you (and your copilot) will be glad you did. One final word of advice – remember that your seat purchase will normally not include shipping and taxes. Check on shipping rates and tax fees prior to checkout, and be aware of shipping policies. These won't fit in your mailbox if you're not home for the delivery!