RZR 800 Winch Reviews: WARN – KFI – Smittybilt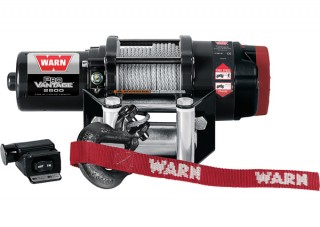 Warn Industries ProVantage 2500
Warn Industries is known worldwide for its superior line of off-road accessories and equipment. Their winches are arguably the best money can buy and will definitely transform your Polaris RZR into a real workhorse. The ProVantage 2500 is no exception. It's a great all-around winch, with top-shelf specifications and awesome workmanship. This Warn Winch for the RZR is built to stand up to almost any abuse. The internal components of the winch are fully sealed against the elements. The heavy-duty casing has a corrosion-resistant black finish. Treated properly, the ProVantage 2500 will look as good as new, even after many years of grinding hard work. The mechanical guts of the winch are every bit as durable and rock-solid as the exterior casing, so you needn't fear an unexpected breakdown. The ProVantage 2500 provides a respectable, but not overwhelming 2,500 pounds of pulling capacity. The 50-foot winch cable is somewhat thin at 3/16 of an inch, but that shouldn't be an issue for most applications. The housing and gear assemblies are all metal, thus living up to the Warn Industries standard of machinery that's well crafted and all but unbreakable. A 3-stage planetary gear system makes the whole thing work smoothly. The only thing noticeably missing is a handheld remote, which you will have to buy separately. Warn Winches for the RZR are typically near the higher end of the price scale, mainly because of the high-quality components and solid reputation for excellence. However, it's certainly true in this case that you get what you pay for, and that's dependability and quality. Warn believes so strongly in its products that the winch even comes with a limited lifetime warranty.
KFI A4500 ATV Series
The KFI A4500 Winch is among the toughest winches for the RZR on the market today. The 12 Volt DC, 1.7 horsepower permanent magnet motor provides up to 4,500 pounds of tugging power. Simply put, this winch can handle anything you want to throw at it, and then some. The KFI A4500 features an all-metal planetary gear drive, making for smooth operation at all speeds. In addition, this winch has both dynamic and mechanical braking systems for supreme control. All winches have dynamic brakes by design, meaning the resistance of the motor prevents a load from unwinding the winch cable. Mechanical brakes are a bonus feature on the A4500. They allow for more extreme applications, such as hoisting heavy loads. One of the most convenient features of the A4500 is the mounting bracket for the mini-rocker switch. This allows the driver to manage the speed of the winch from inside the vehicle, which is both a safety and convenience feature. The winch also comes with a wired, 14-foot handheld remote, which is great for controlling this behemoth from a safe distance. Perhaps the only drawback to the A4500 is that it's more winch than some people need. Weighing in at 35 pounds, this is definitely a lot of winch, and it will noticeably increase the weight of your UTV. Also worth noting, KFI only offers a limited one-year warranty – something to think about if you plan to use a winch regularly.
Smittybilt UTV 3,000LB XRC 3.0 Winch
Smittybilt has been around the block – the company literally grew up alongside the off-road enthusiast market. Their products cover nearly every accessory a UTV owner can imagine, including tough, do-anything winches. RZR winch reviews have mostly great things to say about Smittybilt, both in terms of their winches and their customer support. With a sticker price of only about $150, Smittybilt's XRC 3.0 Winch is possibly the most affordable RZR winch you will find anywhere. Despite the bargain price, this is still a very respectable piece of machinery. It's strong enough for most jobs, such as pulling logs or rescuing a stuck UTV. The winch boasts 3,000 pounds of raw pulling power, courtesy of a beefy 3.9 horsepower magnetic motor. A 3-stage planetary gear system makes for smooth transitions from one speed to the next. This is also a remarkably light winch, weighing in at only 17 pounds. The XRC 3.0 can get you out of a jam without slowing you down or emptying your pocketbook. The winch comes with 38 feet of quarter-inch steel cable and an 11-foot corded remote. Admittedly, 38 feet is less cable than many other winches, but it's still enough for most purposes. However, if you intend to do any hoisting of heavy loads, you may come up a bit short. Also included is a bracket for mounting the remote inside the RZR. Sometimes it's just more relaxing to operate the XRC 3.0 from the driver's seat. Like the ProVantage 2500, the Smittybilt XRC 3.0 also comes with a limited lifetime warranty. The winch ships with a universal mounting plate, so you won't have to go buy a separate piece to fit the XRC 3.0 to your Polaris RZR. Overall, this is a well-made, rugged winch that won't break the bank.