Rockin' Sound Systems for Your RZR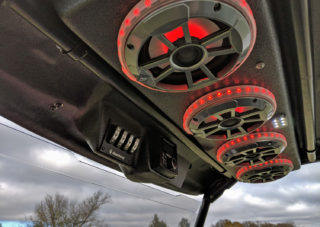 When you get down to it, the Polaris RZR is about fun more than anything else. Sure, these vehicles have plenty of impressive practical applications – after all, they can go just about anywhere – but most people buy an RZR because they want to have some thrills with friends and family. Whether you like to explore rocky terrain, cruise trails, or hitting the dunes in your RZR, you are doing it with a smile on your face. One of the many things that make Polaris RZR vehicles so enjoyable is the ability to customize them to meet your wildest dreams. The machine is impressive enough when it comes to you from the factory, but that's just a starting point for what is possible. There is an endless array of aftermarket products that can enhance your experience and allow you to put your own personal touch on your unique RZR. In this article, we are going to talk about adding an RZR sound system to your side by side. Not the kind of sound system that you can gently turn up to listen to a weather forecast or news report. No – we are talking about the kind of sound system that you can crank up and let everyone on the trail know you are on the prowl. If you like it loud – really loud – the sound systems we have included below are well worth your attention. Let's crank it up!
AudioFormz RZR Roof Top Stereo Systems
If you want to have tons of options available to you when picking out an RZR stereo, it's hard to go wrong with the products offered by AudioFormz. As you will see, this company offers many different packages, so it should be easy to find something that suits what you are looking for. Not only do the products from AudioFormz offer excellent sound quality and plenty of power, but they look great at the same time. To help you get familiar with the line of AudioFormz products and what they have to offer your RZR, we'll break down some of their features and packages.
Key Features
To get started, let's highlight some of the important features that you will enjoy when you purchase some of the packages from AudioFormz. This brand has developed a trusted reputation in the audio business for a reason, and if you decide to order from them, you are sure to be impressed with the quality and performance of their products.
Designed specifically to fit tightly on the roll cage
Manufactured in the USA
Rugged polyurea black texture finish stands up to a variety of weather conditions
Quick and easy installation process
Flush-mount LED dome lighting
Much more!
Respect for the Speakers
These are not just any old speakers that you will be fitting to your RZR. The EVO and EVO Pro speakers from AudioFormz stand out from the competition thanks to their ability to deliver loud performance while keeping the sound clean. Some lower-quality speakers get muddled when you really crank them up, but there are no such worries here. If you are serious about sound quality and don't want to make any sacrifices, take a close look at these systems.
Let's Talk Levels
If you browse the AudioFormz website, you'll find that they have powerful roof top stereo systems for a variety of RZR models. Within many of those models, they offer different levels that allow you to pick the right setup for your needs. These levels range from One to Five. At Level One, you'll be getting a basic setup with the speakers and radio, the minimum you will need to enjoy quality audio while out on the trails. The packages get more advanced as you work your way up the levels, until you reach the top of the range at Level Five. At this stage, you'll get an incredible sound system capable of pumping out serious power for your friends and family – and anyone else in the area – to enjoy. It's important to note that any level you pick, you will be getting quality gear. Even if you opt to keep the price tag down by going with a level one package, you are still going to be impressed with the roof top sound system you receive. As an RZR aftermarket stereo, this is one of the best options available.
If you have a two-seater Polaris RZR model like the 900 or 1000, you will love the roof top systems offered by AudioFormz. As mentioned above, this setup is available in five levels, each adding additional features and benefits beyond the one before. If you opt for a Level One package for this vehicle, you'll get the following –
Sony BT Radio
4 AudioFormz EVO 6.5'' Speakers
A Total of 5 10W LED Lights
That's a solid basic package, and it will be plenty for many two-seater RZR owners. But what if you want something more? Let's skip ahead and highlight what is included with the Level Five package.
Rear Firing Sub Top
Rockford PMX-2 BT Radio
4 AudioFormz EVO Pro 8'' Speakers w/ RGB Rings
RGB Remote
A Total of 5 20W LED Lights
2 10'' Rockford Subwoofers
And more!
As you can see, stepping all the way up to Level Five provides a far more advanced and powerful system than what is offered at Level One. To make the right choice for your two-seater, think about the way you'll use your sound system and what your budget happens to be for this purchase.
If you own a big four-seater, you probably enjoy taking friends and family members with you out on the trail. And rightfully so, you want to show them a good time by pumping up the volume on a powerful sound system. The RZR sound system you can enjoy by purchasing one of these packages from AudioFormz is not going to leave anyone in your party disappointed. Just like above, we are going to look at what is included in the base Level One package, as well as the top-of-the-line Level Five setup. First, let's look at Level One.
Hand-Laid Fiberglass Top
AudioFormz PMC1 BT Radio
4 AudioFormz EVO 8'' Speakers
A similar setup to what is found in the two-seater version, this package has larger 8'' speakers but does not include the LED lights. Now, for the top-end Level Five roof top sound system.
Rear Firing Sub Top
Nav-Atlas BT Radio
6 AudioFormz EVOPro 8'' IC LED Speakers
IC LED Speaker Rings
IC LED Controller
2 AudioFormz 800W Amplifiers
A Total of 5 20W LED Lights
That's quite a package of audio equipment if we must say. Cruzing around in your Polaris RZR4 900 or 1000 is plenty of fun, but we suggest taking your off-roading experience to a new level if you outfit your machine with this top sound system from AudioFormz.
SSV Works Polaris RZR Audio Systems
Much like AudioFormz, SSV Works offers an incredible number of packages and options for you to customize your side by side. The beauty of tackling this kind of project yourself by ordering stereo parts from an aftermarket supplier – you come away with exactly what you want when all is said and done. It would be silly to install a stereo that doesn't work for you, so why do it? Take your time; pick out exactly what you want from a quality brand such as SSV Works. Again, in this section, we are going to help you get a clear picture of what is available through SSV Works. We won't be able to cover all of their options, of course, because there are so many available. Let's take a look at some leading options and you can begin to work out a plan for what stereo system you'd like to add to your RZR in the near future.
To get started, we'll check out a well-rounded product that offers a number of the same features as we saw in the overhead audio offerings from AudioFormz. This overhead audio system fits several different RZR models, including the standard RZR, the 500, XP900, and more. One of the great advantages of this package is the quick setup process – it should take roughly 15 minutes to attach to your cage and you'll be ready to roll. Also, this unit is weatherproof, so you can feel free to take on the elements with confidence. What is included in this product? The following gear, for starters –
AM/FM Tuner and Bluetooth Connectivity
High-Power Class D Amplifier
SSV Works Speakers
Hyper-White LED Dome Light
Optional add-ons for this setup include a grill color add-on and an AUX input and USB charge port. With a great base of features and the ability to add even more equipment to the setup, it's easy to see why this would be a popular choice.
When we looked at the RZR 1000 earlier in the AudioFormz section, we talked about their roof top system – which is an excellent option for both two-seater and four-seater models. Here, we are going to look at a different approach to getting the kind of audio performance you desire on your RZR. Rather than an overhead system, this is a plug-and-play RZR aftermarket stereo that promises to take your dunning or mudding to a new level. You'll get an incredible amount of quality gear with this high-end package, including the following –
SSV Works Front Kick Panel Speaker Pods – Kicker 6.5'' Speakers
SSV Works Cage Mount Speaker Pods – Kicker 6.5'' Speakers
Kicker 10'' Subwoofer
Direct-Fit Dash Kit with MRB3 Bluetooth Receiver
Plug & Play Harness, Wiring, Cables
If you are a little intimidated by the prospect of putting in your own sound system, don't be! This package is meant to be installed by the average RZR owner without any advanced knowledge of audio equipment. You won't have to do any soldering or crimping to put the system into place. Rather, you just attach the speakers in the right spots, connect everything as directed, and start enjoying your new sound system.
Rockford Fosgate RZR Audio Gear
There are
four different packages to choose from under this Rockford Fosgate system
, and each is worthy of your attention. Coming from such a respected name in this business, you know you can trust the quality of this stereo system to deliver for you in a variety of situations and conditions. Much as was the case with our first two options, this is another audio system that adds a great look to your RZR in addition to the legendary sound. Once you have seen what the four packages below include, you'll have a tough time choosing between one of these and the attractive options we presented from AudioFormz and SSV Works.
Built for Real Life
It's doubtful you got an RZR just to drive it in your town's annual spring parade. If you were only driving it in perfect weather conditions on a pristine track, you wouldn't need your stereo to be so rugged. But that's not what the RZR is all about. You are going to get it dirty, and muddy. It's going to take some hits over some pretty nasty terrain before all its all said and done. If you are going to add audio to your RZR, you need to make sure the system you choose can take the kind of beating that it should expect to receive. There will be no worries on that front with a Rockford Fosgate system. This is solid audio equipment that is ready to take a punishment and keep on going. As long as you treat your RZR right while it's in use and while it's being stored, you can count on this audio system to perform as expected for many years to come.
A Four-Stage System
As is often the case with these kinds of setups for the RZR, you can choose how much equipment you want to include in your purchase by selecting the right level. In this case, there are four levels to pick from, referred to as stages. We'll walk through each of the four stages below.
Stage One. This is the perfect choice for an RZR owner who already has speakers in place. If you don't need speakers, Stage One will work nicely because it will deliver a PMX-2 digital receiver and custom dash kit. You'll enjoy built-in Bluetooth Connectivity with this receiver, it has an AUX input, and a USB that you can use to charge your phone. To enjoy some old-school audio, you can also pick up AM/FM with this unit.
Stage Two. Want to add some speakers to the experience? Stage Two has you covered. By moving up from Stage One, you will still get the same quality receiver, but you will also add two 6.5'' speakers, their enclosures, and the wiring harness needed to bring it all together. Even if you stopped here, you'd be able to enjoy a wonderful audio experience without the cost of some larger packages.
Stage Three. Don't mind spending a little more to get added power and performance? Step up into Stage Three (or Four) to get the kind of performance that will be the envy of your friends on the trail. Stage Three includes everything that came in the first two stages, but it also offers a 10'' sub with enclosure, a 300-watt speaker amp, 300-watt sub amp, along with mounting plates.
Stage Four. At the top of the range, you'll find everything you need to create a rocking system on your RZR. Yet again, you enjoy everything from the top three stages, but you'll also be adding a pair of 6.5'' RZR speaker pods meant for mounting in the rear of the RZR to round out the surround sound audio experience. The wiring harnesses are included as well for these pods.
With the way this audio package is organized, you can jump in at any level that is appropriate for your budget, preferences, and expected use. Also, if you already have some equipment in your garage or on your side x side, you can pick the right stage to make sure you're only getting what you need to complete your setup. Lastly, with a name like Rockford Fosgate, it's a safe bet that you will be impressed with your new audio equipment and the performance it provides.
Buying a Sound System – Key Considerations
As you can see, finding quality audio equipment for your RZR isn't particularly difficult. The companies included in this guide, and several others, will be happy to sell you their latest and greatest stereo systems for your RZR. But how do you know what equipment is right for you? After all, this stuff can get expensive, so you don't want to spend more than you need to on items that aren't actually going to suit your needs. The guide below will help keep you on the right path as you shop for the right stereo for your side by side.
Speaker size. Generally speaking, larger speakers will deliver you a better audio experience. Now, that is a very general statement, and there are plenty of other factors that come together to determine how a speaker sounds and how well it suits your needs. But all other things being equal, upgrading to a larger speaker should deliver an improved audio experience. For instance, if you go from a 6.5'' speaker to an 8'' model, it's likely that you will notice the improvement when putting your system to the test.
How loud do you like it? Here's the thing about audio systems – not everyone uses them the same way. Sure, some people like to blast as much sound as possible, and those users will need plenty of power, but that's not true for everyone. If you prefer a more subdued experience as you explore the backcountry in your RZR, it might be that a modest system with limited power is just right for your needs.
What inputs do you use? These days, there are plenty of different options for how you can get the music you like running through the speakers of your RZR. You could still dial up the radio as people have been doing for generations, but you could also opt for a Bluetooth connection through your phone, an AUX line running into the system, or something else. Think about what kind of audio you consume and make sure the system you choose supports that type of input.
Amps are important. Don't overlook the importance of a good amp as part of your audio system. One common misconception is that amps are only important if you are trying to crank your audio up to incredible levels – but that's just not the case. Even if you like to listen to quieter tunes, you will still want an amp to support the delivery of your audio to the speakers. Whatever kind of music you enjoy, it's almost certain to be improved by the presence of a good amp.
Perhaps the best way to learn what you want in a system – beyond reading this guide – is to shop around for a bit. For instance, spend some time on each of the three sites linked in this article to learn more about what they offer and how those features can help your RZR meet your audio expectations. As you shop around, you'll gain knowledge and will be able to make a more confident buying decision in the end.
Don't Wait Any Longer!
Could you use your RZR as it is, without a powerful sound system to blast out your favorite tunes? Sure – but it wouldn't be nearly as much fun. The right sound system for your needs will depend on exactly what you want to do with your RZR, but we hope the ideas in this article have pointed you in the right direction. This is a fun project to be sure, so get started; your next trip will be taken up a notch like never before.