Top 3 Shock Upgrades – Polaris RZR 800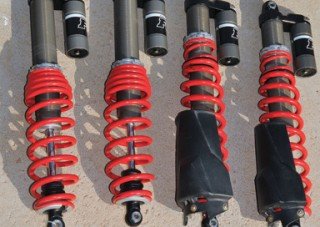 Many UTV owners change their shocks to increase performance, and like many UTVs, making the upgrade for the Polaris RZR 800 is a great idea. Given that these vehicles are designed for off-road trails, dunes and difficult terrain, the shocks are naturally an important part of the vehicle, and this makes it worth your while to consider an upgrade. The Polaris RZR 800 comes with reasonable stock shocks, but if you want to get more out of your vehicle we strongly advise you to upgrade. You can live without the upgrade if you are a casual driver or do not drive extensively, and the shocks you get with a Polaris RZR 500 work well straight out of the factory, but if you do upgrade you will wonder how you ever lived without them. It is pretty easy to compare between different RZR shocks, as different types of shock make a big difference to the drive and the performance of the UTV from one brand to the next. In no particular order, this guide explores three shock upgrade kits for the Polaris RZR 800.
FOX RACING 2.0 SHOCKS RC2
Being fully adjustable, these shocks are suited to all types of UTV rider, from the basic recreational rider to the off-road enthusiast and the extreme dune rider. You can adjust them to gain the ride and response your usage demands, which is good for people who ride on lots of different terrains or for different riders with different preferences using the same UTV. These Fox Racing shocks are ideally suited for anyone looking for an upgrade from the stock shocks provided, and even better if you know what adjustments made can help you get more out of your Polaris RZR 800. They are easy to install, and when you test them you will notice just how much more versatile and impressive your UTV can be. Make short work of every rugged trail and conquer each turn with these performance shocks on your side.
Features
2" shock body
coil springs and piggy back resevoir
Rebound adjustment, and external adjustment with low/high speed adjuster
PROS
CONS

Externally adjustable, comes with 3-way adjustability
Heat and fade is reduced with a large body and reservoir
Unlike other shocks, these are well suited for heavier loads

Above the needs of the causal rider
Fairly high price point
POLARIS RZR 800-4 2.0 OE REPLACEMENT COIL OVER PIGGY BACK ADJUSTABLE SHOCKS
These shocks are provided by Walker Evans, a company which are well known for making some of the best quality UTV accessories and parts for performance, and these Polaris RZR 800 shocks are no exception. When you install these replacements onto your UTV you will notice very quickly a better riding experience. You will be able to handle tough gradients, rough landings and difficult turns more easily, and even the most challenging of trails and dunes are no match for these shocks. They make a great entry point for upgrading your RZR UTV, and the quality of the components ensures they will last for a very long time. With the extensive list of features and benefits outlined below and the fact these shocks can be adjusted according to your riding preferences, these shocks are difficult to beat. A great option if you want to see what shock upgrades are all about.
Features
2" shock body
16-way compression adjustable reservoir
made in the USA
billet aluminum design
5/8" micro-alloy steel nitrid coated shock shafts
1/2" FK steel bearing shock ends
fits OEM mounts
PROS
CONS

Can be re-valved and re-built
Anodized for resilience and long life

Can only be used with OEM A-Arms
ELKA POLARIS RZR 800 STAGE 4 PERFORMANCE RACE SHOCKS
These Elka Stage 4 Performance Race Shocks for the Polaris RZR 800 are firmly seated in the high-end. They are a product for the serious and discerning UTV driver who wants nothing but the best in performance, for competitive and racing environments and the toughest courses. They are also a good choice for a casual driver who doesn't mind paying for top of the line performance and the highest quality build and design. They are fully adjustable, offering more adjustability than other shock options, so you can adapt your UTV for all occasions and all types of handling. Essentially, these shocks can do everything the above shocks can do and more. Whether you are trying to improve your lap time, or want the smoothest ride for the trail, these shocks will deliver the performance you need and then some. Thanks to their quality you can be sure that they will perform without a hitch, keep you safer while driving, or keep you in the highest leagues of competition. Your Polaris RZR 800 will make short work of anything that comes your way with these shocks.
Features
High-Speed and Low-Speed Compression Adjustments
Rebound and Preload Adjustments
External Reservoir
Custom Valving
Rider-Specific Spring Setup
front: 46mm body, 16mm shaft
rear: 46mm body, 16mm shaft
PROS
CONS

Elka has an excellent reputation and their shocks receive great reviews
Truly top of the line quality and performance
improves comfort considerably
Used and trusted by competitive UTV drivers
Can tackle a large variety of UTV environments
handling sharp turns, extreme terrain, and big jumps with ease.

Features may be above the needs of causal riders
High price point