Polaris RZR Body Modifications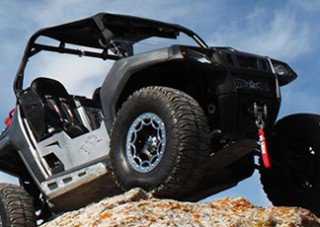 Taking your RZR off-road in search of adventure is one of the best ways to spend a day…or maybe a weekend, when you have the time. But depending on where you live, your favorite activity can be completely derailed by weather conditions or by safety concerns, or even by inconvenience. If the ride isn't fun, the UTV ends up staying in the garage, and nobody enjoys that! Fortunately, there are easy and reasonably priced Polaris RZR modifications that can maximize the time spent on the trail while increasing the enjoyment of your ride. Many of these modifications can be installed in an hour or less, so there's really no reason to delay improving the quality of your UTV. It seems that the designers of our favorite UTVs were focused on fun, but perhaps not so much on utility in varied conditions. In this article, we discuss modifications that can dramatically increase protection from the elements and also improve the safety characteristics of your vehicle.
Windshields for your RZR
There are a wide variety of windshields on the market, but in general they all serve the same purpose. Half-height or quarter-height windscreens, like the RZR wind deflector screens from UTV Inc., are intended mainly as wind deflectors to keep the blast out of your face and directed more over head. A major advantage to this type of short windscreen is the ease of installation. The screen bolts in without removing the A-pillar bolts, and the cage can be removed with the windscreen in place. But these won't keep rain out of the cab completely, and the dust protection is minimal. If staying dry and keeping more dust away from your engine's air intake are important, then consider a full-height windscreen. Even if you've decided to choose a full-height RZR windshield, there are still decisions to be made. Any option will come with benefits and drawbacks, so it is important to decide what is most important to you. Do you need rapid installation and removal, or a "set it and forget it" situation? Is cost or quality more important? These decisions will help in narrowing down your choices. Consider, for example, the RZR windshield from American Trails. This is a soft windshield that attaches with a buckle-and-strap arrangement, so the installation is fast and simple without any disassembly required. The screen itself is vinyl, making storage very easy as well should you remove the screen from your UTV. As an added bonus, the windshield ships with a dust screen for the rear of your cab. But on the downside, a soft screen will be more liable to flap in strong winds or while driving, and the soft vinyl will be easier to scratch than a hard acrylic or Lexan screen. Of course, there are many great Polaris RZR windshields available with hard screens. The Slip Streamer RZR windshield is a solid acrylic screen that attaches with adjustable anodized aluminum fasteners, and the entire screen is mounted within the frame of your roll cage, protecting the edges from damage. For full flexibility, review the Polaris UTV Ranger RZR Flip-Out windshield. This is a two-piece unit that allows parts of the windshield to be open outward, allowing a flow of fresh air into the cabin. The screen has three positions (Closed, partially open, full open) with gas shocks to hold it in the set position. The costs are somewhat higher and installation will take longer, but this is a high-feature windshield.
Doors for Polaris RZR
A logical next step in upgrading your UTV is to install a set of doors. These serve two major functions: keeping you inside, and keeping everything else outside! Safety should always be a consideration, even during our leisure time, and adding a side protection to your ride only makes sense. Granted, typical Polaris RZR doors will not offer as much protection as the doors on your car, but you don't want to be completely isolated from your environment at all times either. Half doors allow you to strike a balance between open-air enjoyment and protection. When searching for RZR doors, both Dragonfire LowBoy doors and the UTV Inc. Removable Trail Doors are good options. They have much in common, including full steel tube frames, aluminum door skins, and high-quality latching mechanisms. These doors are made with high-quality components to reduce noise. Both units are front opening / rear-hinged, or "suicide" doors, as this design is the best fit for the RZR's frame. Since these doors have aluminum skins and are intended to keep weight down, some "booming" during rough rides is possible, but otherwise noise is at a low level. Also keep in mind that the installation of the doors takes some time – this is not a simple snap-in operation, but is well within the mechanical skill level of most riders.
RZR Body Armor
As the name suggests, RZR body armor protects your UTV from the harshest things you'll find in the woods or on the trail. Hitting the wrong rock at the wrong time can end your ride for the day, and repair costs can be high. In a worst-case scenario, serious frame and suspension damage could occur, so a high-quality body armor kit is smart insurance. Body armor runs the gamut from light to extreme. For lighter coverage, a good starting point would be Pro Armor Rock Sliders. These units are well made from strong steel, and provide protection for the sides and undercarriage of your UTV. Installation is fast and simple. Remember this is just a starting point, as the suspension of your ride is not covered by this mod. If you would like full protection, then a kit like the Warn body armor should be on your list. The kit is full aluminum to save weight, and covers the entire undercarriage, including specialized covers for front and rear A-arms. To prevent moisture retention, drainage ports and access ports are built into the skid plates, and all mounting hardware is recessed to prevent damage. This type of underbody protection provides peace of mind during rough rides in rocky terrain.
5-point Harnesses
Keeping you inside the UTV during high-speed runs or over steep obstacles is an important consideration, especially if you have not yet fitted doors to your ride. The 5-point harness has been used for years by motorsports enthusiasts of all stripes, from drag racers to hill climbers to Formula 1 for good reason. This type of seatbelt arrangement keeps you securely in place, and does not reduce your handling dexterity. In other words, a traditional RZR seat belt may lead you to use your off hand to brace yourself during maneuvering. This means you have only one hand for steering, reducing your control of the vehicle. You need both hands on the wheel. Replacing your standard Polaris RZR seat belts with 5-point harnesses is not a complex task, but check out the locations of the stock mounting bolts on the seat belt retractor side before you start. This is the only bolt that is difficult to reach, but after all the plastics are out of the way, it is not a real challenge. Before selecting a vendor, it is important to clarify which size of belts you want. 5-point harnesses are normally available with 2" or 3" wide belts. The 2" belts will be a better fit for larger folks, but the 3" belts distribute force over a wider area and can be more comfortable during longer rides. High quality belts are available from UTV Inc. and from Pro Armor. Both offer lap belts that are sewn to the shoulder belts on each side, making them easier for newbies to handle. Both companies offer similar designs, and the attachment methods are the same in each case.
RZR Aftermarket Lights
When you were a kid playing in the neighborhood, you knew it was time to go home when the streetlights came on. Now that you're an older kid playing in the woods, there are no streetlights, and you don't want to go home early anyway! Twilight comes early in the winter especially, but extending your playtime can be as simple as upgrading the stock lights on your Polaris RZR. There's nothing wrong with the standard RZR lights, but there is room for improvement and customization. The simplest upgrade comes directly from the Polaris factory, and uses the stock wiring harness with no real modifications necessary. The kit upgrades the stock lights to HID bulbs, with a choice of standard or lighter/thinner upgraded ballasts, and a choice of 5000K or 6000K light temperatures. The difference between standard and HID is almost literally night and day! If you're looking for a light kit with a different look, then consider using PIAA lights. The PIAA brand has been a standard on World Rally Cars for ages, which is a testament to their durability. You can choose from flood-style units or HID units, all in the classic round housing. The RZR lights can be mounted on the bumper in front or on the roll cage overhead, or a combination of the two. Customizing your ride is part of the fun of UTV ownership. The personalization not only looks good, but also increases your safety, keeps you on the trail longer, and is bound to start conversations with fellow enthusiasts. Enjoy the journey!