Assault Side Mirrors for RZR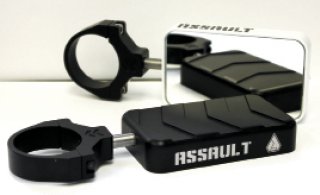 American Made mirrors made from Aluminum 6061-T6. Two colors to choose from:
Anodize Flat Black with laser etched logo or
Powder-coated white with Black vinyl Assault logo
All Stainless steel Hardware. Both 1.5", 1.75", and 2.00" diameter clamps available for your RZR. Military look is what Assault is going after. Lots of Chevrons in our products, military colors, etc. Center mirror and different design coming soon. 
www.assaultutv.com